Latest news from the SMMT shows 34% drop in September new car sales
The UK new car market has recorded its weakest September since 1998 according to figures published by the Society of Motor Manufacturers and Traders (SMMT).
Some 215,000 cars were registered in the month, a -34% fall on September 2020, when pandemic restrictions were significantly curtailing economic activity. September is typically the second busiest month of the year for the industry, but with the ongoing shortage of semiconductors impacting vehicle availability, the 2021 performance was down some -44.7% on the pre-pandemic ten-year average.
However, September was the best month ever for new battery electric vehicle (BEV) uptake. With a market share of 15.2%, 32,721 BEVs joined the UK road in the month, reflecting the wide range of models now available and growing consumer appetite. Indeed, the September performance was just over 5,000 shy of the total number registered during the whole of 2019.
Plug-in hybrid (PHEV) share also grew to 6.4%, meaning more than one in five new cars registered in September was zero-emission capable. Meanwhile, non plug-in, hybrid electric vehicles (HEVs) grew their overall market share from 8.0% in 2020 to 11.6%, with 24,961 registered in the month.
See charts below.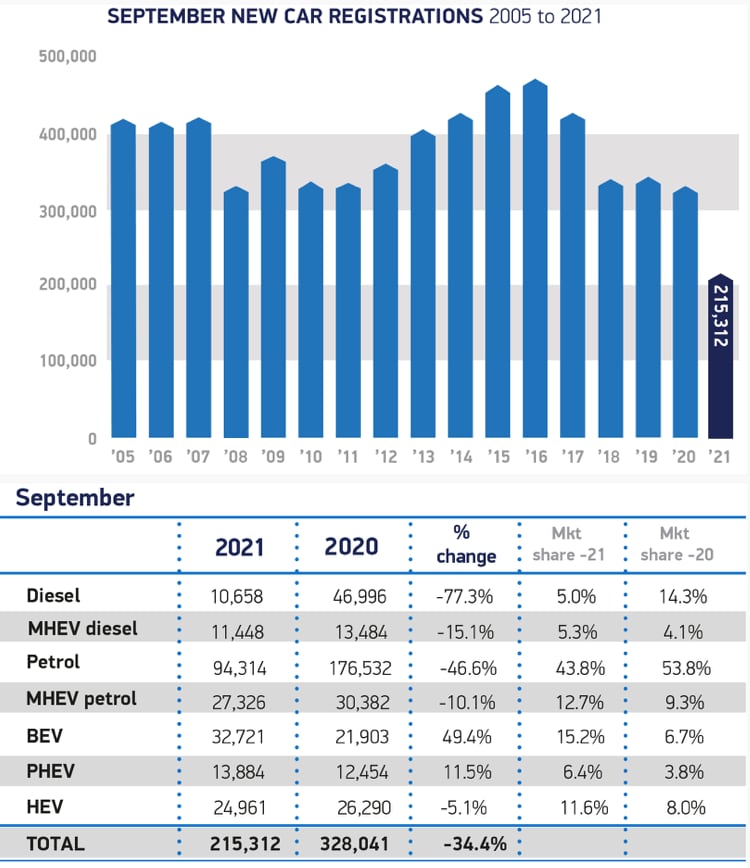 Tesla 3 rocks again
For the month Tesla delivered 6,879 model 3s, 1,500 units more units than the next best seller the Corsa.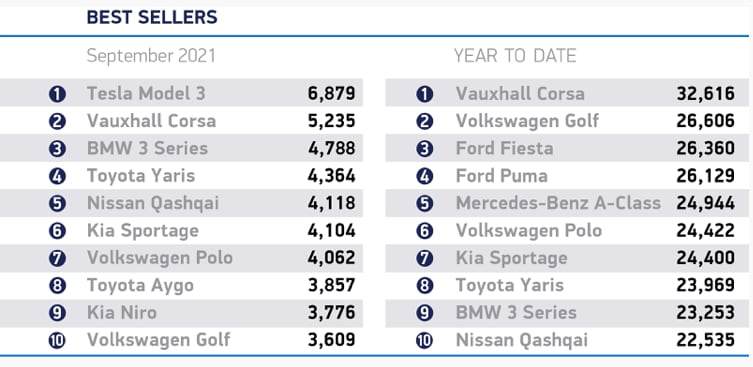 For the quarter ending September Tesla produced and delivered 240,000, a record number of cars for Q3. The Model 3 and Y accounted for the bulk of these units at 232,025 delivered to customers. Of those we know 6879 landed in the UK in September.

In the second quarter, Tesla produced a total of 206,421 vehicles and delivered 201,250. While in the first quarter, the EV maker produced 180,338 units and delivered 184,800. As can be gleaned by Tesla's quarterly production and delivery reports, the company's numbers are steadily rising quarter over quarter.
How did GM do?
Meanwhile, GM reported delivering 446,997 vehicles in the United States in the third quarter, down 218,195 units compared to 2020. In the first quarter, GM reported that all of its US brands had seen double-digit increases YoY in retail sales. It sold 642,250 vehicles in the US in Q1 2021. Total sales were up 4% compared to April 2020. In July, at the end of the second quarter, GM reported an increase of 40% compared to a year ago.
The legacy automaker cited semiconductor "supply chain disruptions and historically low inventories" as the reason for the decrease in US sales.
Sources
Tesla News – link.
SMMT – link.