The company reported record vehicle production and deliveries in the quarter and $1.62 billion in (GAAP) net income for the quarter, the second time it has surpassed $1 billion. In the year-ago quarter, net income was $331 million.
The record results were driven by improved gross margins of 30.5% on its automotive business and 26.6% overall, both of which are records for at least the last five quarters.
Automotive revenue rose to $12.06 billion and costs of automotive revenue amounted to $8.38 billion for the quarter.
Total production was 237,823 cars with 241,391 cars delivered to customers – 73% YoY growth.
Tesla also generated $806 million in revenue from its energy business, which combines solar and energy storage products, and $894 million in services and other revenue, which includes vehicle maintenance and repairs, auto insurance and sales of Tesla-branded merchandise among other things, Tesla has disclosed in past financial filings.
For its energy and storage business, costs of revenue rose to the highest number in the last five quarters to $803 million during the third quarter.
In a shareholder deck that Tesla released before a call to discuss Q3 results, the company said, "A variety of challenges, including semiconductor shortages, congestion at ports and rolling blackouts, have been impacting our ability to keep factories running at full speed."
Even with those issues, the company reiterated prior guidance that it expects to "achieve 50% average annual growth in vehicle deliveries" over a multi-year horizon.
The plans are ramping fast with new production coming on stream this year in Texas and Berlin.
Unlike other automakers, Tesla's sales rose during the quarter, setting a new company record, despite chip shortages and supply chain challenges weighing on the industry. (Deliveries are the closest approximation of sales that Tesla reports.)
Many other automakers have reported record profits during the semiconductor chip shortage due to resilient consumer demand, but they have not been able to produce better sales due to the supplier constraints.
In the Q3 shareholder deck, Tesla remained non-committal on the start date for production of the hotly anticipated Cybertruck. The company is saying only that production of the non-traditional truck will begin at some point after Model Y production commences in Austin, where Tesla is building a new vehicle assembly plant.
Tesla also said in the deck that for all of its standard range vehicles, it will be "shifting to Lithium Iron Phosphate (LFP) battery chemistry globally."
Previously, Tesla used lithium-ion battery cells with a nickel cathode in its standard range vehicles made for customers in North America. Because iron is more abundant than raw materials used in other lithium-ion battery cells, like nickel and cobalt, LFP batteries are generally more affordable to produce.
The two top producers of these types of battery cells are CATL and BYD in China. Tesla is already procuring batteries from CATL, the companies previously revealed.
Analysts asked Tesla executives on Wednesday if they were planning to procure all their LFP batteries from China. Tesla senior vice president of powertrain and energy engineering, Drew Baglino, said ultimately the company's goal is to "localise" production of cars and batteries as much as possible to the continents where it makes cars. That goal extends to battery cells, he suggested.
Key data
Couple of charts from the IR deck that should scare VW and Toyota. Tesla less than 2% market share and about to double production. As they say "back up the truck" for Tesla stock.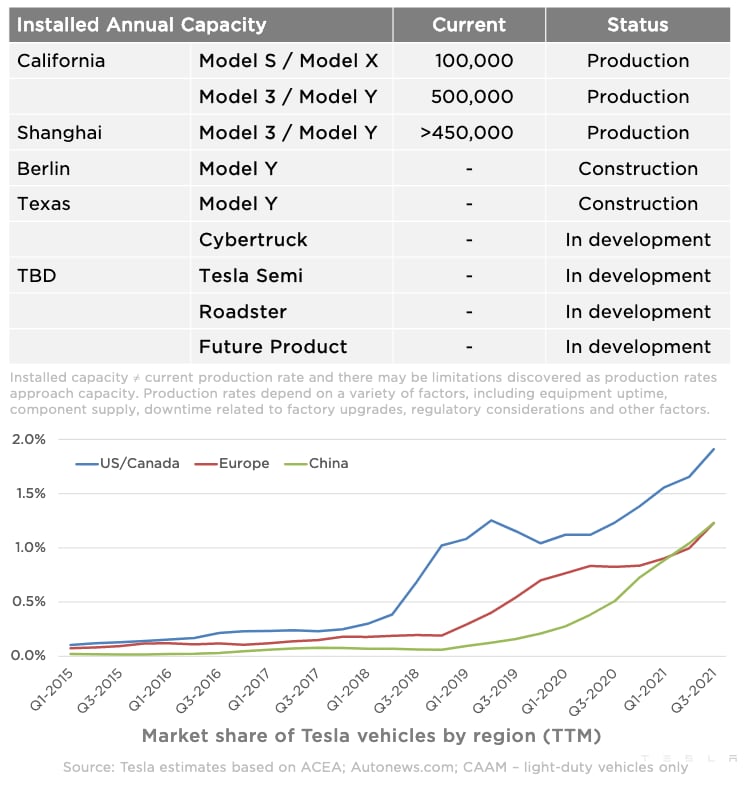 Sources: Tesla IR