We just drove a new Outlander PHEV vehicle.
The latest version for 2016 is a slight improvement over the 2015 model. The interior is slightly more refined with better looking trim and nicer seats and general fit.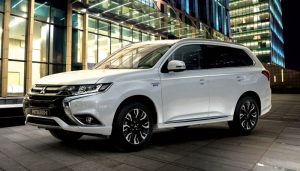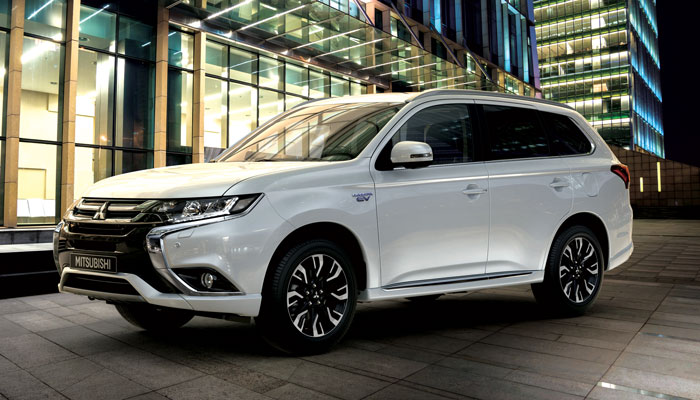 The engine, batteries and motors are unchanged. Mitsubishi offers three variants for 2016: The GX3h, GX4h and the GX4hs.
The charging port remains as before as a Type 1 charging port. See images.

The majority of public charge points in the UK will offer AC current charging via an untethered, type 2 charging point. In order to use these charging points it is necessary for you to have your own type 2 to type 1 charging lead.

What's it like?With a top speed of 106mph and a 0-62mph time of 11sec, this is obviously a more traditional SUV rather than the new breed of high performance off-roaders such as the Porsche Cayenne or Range Rover Sport.
However, with carbon dioxide emissions of 44g/km, the Outlander is about as green as something with an engine can be. It has a pure electric driving range of slightly more than 30 miles, and an all-in petrol-electric range of around 400 miles.
The claimed range of 148mpg is highly optimistic and a result of the way the official test favours hybrid drive systems, so it's been interesting to see what economy the PHEV returns in the real world.
Mitsubishi Outlander PHEV's specification
Our car is in the top GX4hs trim, which commands a £2100 premium over the regular GX4h trim level, but adds a gamut of safety and convenience features to the already comprehensive kit list. This includes adaptive cruise control, lane departure and collision-mitigation system. Options that are nice to have.
In terms of optional extras, we've got the smart floor mats (£60), metallic paint (£500) and a retractable tow bar (£439). The Outlander has a towing limit of 1500kg, which puts all manner of mid-market caravans and larger trailers within reach.



Daily driving
We've got a few miles under the wheels of our plug-in Outlander now, but the handbook has been a regular companion as we've got used to the SUV's various quirks.
That sounds a little like a criticism, but it isn't. It's just that there are a few things to learn to make sure that the Outlander is working at its best. For example, there are a few drive and charging mode options to get to grips with, and the level of power regeneration is adjustable, too. At its simplest, you can just hop behind the wheel and drive, but in order to get the most out of the electric range available and to get the best economy, understanding the car's power systems is important.
In truth, driving the PHEV is a bit of a non-event, because it is very easy to drive and very easy to live with. There are few driving behaviours that you need to amend in order to drive the Outlander, with the exception of the actual act of plugging it in when you get the chance.
As opposed to fully electric vehicles, having the hybrid means there's no need for range anxiety, because the engine is always there to kick in and get you to your destination. However, you'll need to hook-up regularly to have even a ghost of a chance of emulating the triple-digit official economy figure.
Practicality
You genuinely could buy a Mitsubishi Outlander PHEV for its practicality. It has numerous cabin cubbyholes and such like for storing all your paraphernalia, and the rear-seat backrests can be nudged forward to slightly increase the boot size from the standard 465 litres.
Mitsubishi Outlander PHEV's economy
My commute is 10.2 miles, so in theory it's possible to get home and back to work again on one charge of the PHEV's batteries, with its claimed range of 32.5 miles.
Usually when I charge the PHEV at work I am told that it has a range of 29 miles. To eke out as many miles as possible from the batteries, I turn off the air-con and select B5 mode with the gearlever to get maximum regeneration from the brakes.
The PHEV will usually make the journey easily and the range calculation is generally accurate. However, if it's cold and I fancy treating myself to some heat, turning the heating on can reduce the claimed range by as much as a quarter.
It's the same story in the summer. If I hop into the fully-charged PHEV on a warm day and fire up the air-conditioning, it reduces the available electric range by around seven miles. That is the difference between me making my commute on electric, and not.
Currently, the average is around 47mpg. For a 4×4 that's as big and practical as the Mitsubishi, that's not too bad. However, against the 148mpg claimed average it's more disappointing, so it's easy to see why owners feel a bit let down.
I've concluded that the best way to maximise a tank of fuel in the PHEV is to use it for short journeys, with plenty of charging and using the petrol engine as infrequently as possible.
Employing these tactics, the best figures I've seen from it are a fraction more than 90mpg over my regular 11-mile commute. This is with the air-conditioning turned off, regeneration at its most fierce, and the Outlander's 'eco' mode enabled. It's not a very natural way to drive and takes considerable concentration to stick to it.
Essentially, the Outlander PHEV is a ridiculously cheap company car, has very low CO2 figures and can be cheap to run, if used in a way that suits it. If that doesn't suit you, you are unlikely to ever be completely happy with this plug-in SUV.
Mitsubishi Outlander PHEV problems
The PHEV has its fair share of compromises. Ride quality isn't the finest, it isn't the most dynamic thing to drive and while it has a great deal of kit, many rivals have nicer cabins.
There are lights, buttons, buzzers and bleepers everywhere in the PHEV, whose keenness to warn you about everything that it is doing can be a little wearing.
One of these includes the lane departure warning, which I find the need to switch off whenever I climb aboard. It's irritating in the extreme because it is so deeply pessimistic. If it even sees a white line it seems determined to let me know about it.
Also, the powered tailgate works only sporadically from the key fob, and forgets to work at all sometimes. If it can't close, say if something is in the way, it returns, slowly and noisily, to its previous position.
The charging socket door on the PHEV is absolutely enormous. The reason for its generous proportions is because it has to cover a fast-charge CHAdeMO socket and the Type-1 standard socket. This means, however, that the charging door sticks out a long way, and it catches people out as they walk past, particularly when the car is parked in parallel bays.
On one occasion, following a clout, it no longer fitted correctly. In fact, it hit the surrounding bodywork below the charge socket aperture and I had to nudge it upwards, with a couple of bumps from the flat of my hand, to make it shut again.
The Mitsubishi Outlander PHEV's price
In GX4hs specification the PHEV comes in at £35,054, which includes the £5000 Government grant. With the extras we added, the price of our car rises to £36,353.