At this weeks Tokyo motor show, Nissan revealed a new concept car, the IDS. This gives us a glimpse of the future and possible new leaf at some point. The Nissan IDS concept includes wireless inductive charging, a host of intelligent driving tools and rather interesting styling.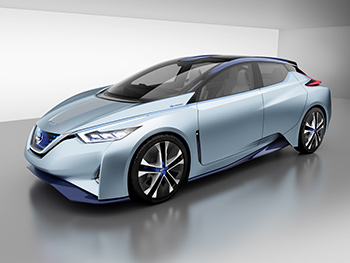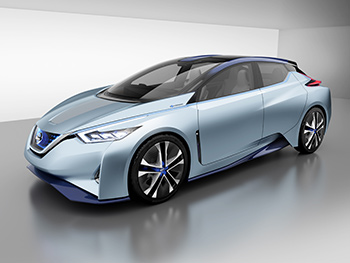 At the launch in Tokyo Nissan design chief Shiro Nakamura launched the model with fanfare.
Nissan have also developed a prototype 60 KWH battery pack for use in The IDS concept. If this battery pack was put in the next generation Nissan Leaf, expect a range in excess of 200 miles.

The concept IDS sports carbon fibre body, fancy graphics, ultra-thin 175 wheels, seating for four, flat panel displays and a hinged steering wheel that pivots into the dashboard. The driving tools include lane control, self park and the opposite of self park ,whatever that is called. Maybe Car on Demand.
The concept car show where Nissan are driving at. The CEO Carlos Ghosn confirmed the future production model rollout.
Version one with single lane hands-free driving, Will ship in production model next year in Japan and will be followed in 2017 into Europe the states and China.
Version two is far more sophisticated and includes multi-lane and city driving technology including the ability to steer around obstacles and slower moving vehicles. Expect to see this in 2020.
The IDs concept car includes five sonar sensors; five laser sensors and 12 cameras.
Check out the video below to see it in action.
To see the corporate launch check out this video