This week Tesla reported second quarter net income of $1.4B – way above analyst expectations. The market was momentarily stunned and pushed the shares up 2.2% after hours.
Tesla reported revenue of $11.96 billion, a nearly 100% increase from the $6.04 billion it generated in the second quarter of 2020. Revenue in the second quarter was also higher than last quarter's total of $10.39 billion. Analysts surveyed by Factset estimated $11.4 billion in revenue and $600 million in profit.
Total revenue grew 98% YoY in Q2. This was primarily achieved through substantial growth in vehicle deliveries, as well as growth in other parts of the business. At the same time, vehicle ASP declined by 2% YoY as Model S and Model X deliveries were reduced in Q2 due to the product updates and as lower ASP China–made vehicles became a larger percentage of product mix.
Tesla was able to beat expectations and log its eighth straight quarter of profitability even as it grappled with supply chain challenges and losses stemming from its bitcoin investment. Operating income was $1.3 billion, which increased year over year from $327 million, due to volume growth and cost reduction, the company said. Those positive results were partially offset by an increase in operating expenses, supply chain challenges, lower regulatory credit revenue and the aforementioned bitcoin-related impairment of $23 million.
Supply chain challenges, notably the global shortage of semiconductor chips and congestion at ports, were two factors that affected its business in the second quarter. Tesla noted that it will continue to impact operations and its rate of delivery growth in 2021.
Model 3 and Y production was just over 200,000 units representing growth of 169% YoY as shown in chart below. These numbers should scare Mercedes, BMW and VW.
| | | | |
| --- | --- | --- | --- |
| | Production | Deliveries | YoY Growth |
| Model S/X | 2,340 | 1,890 | -63% |
| Model 3/Y | 204,081 | 199,360 | 169% |
| Total | 206,421 | 201,250 | 151% |
Not just cars
During the quarter Tesla deployed 85 MW of solar installations and 1274 MWh of static storage both over 200% YoY growth – see charts below.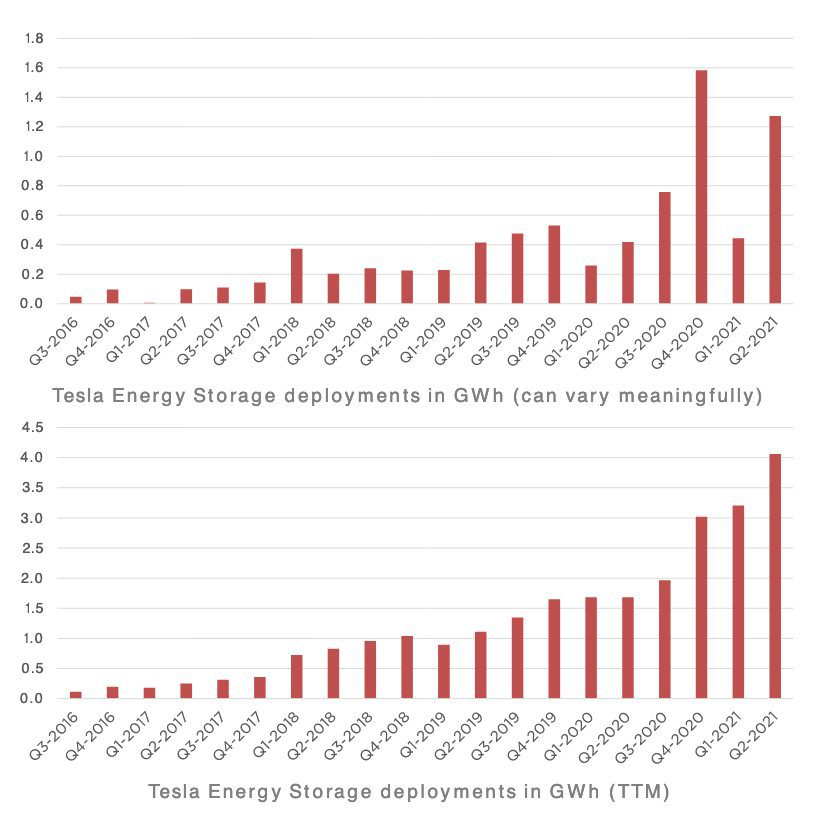 Growth
Tesla plan to grow manufacturing capacity as quickly as possible. Over a multi–year horizon, they expect to achieve
50% average annual growth in vehicle deliveries. In some years it may grow faster, which Tesla expect to be the case in
2021.
The rate of growth will depend on our equipment capacity, operational efficiency, and the capacity and stability
of the supply chain. With new factories under construction in Texas and Berlin – short term growth in production is on the cards. 
It is expected that Berlin will start to churn out Model Y SUV vehicles for Europe late in 2021 with production ramping up rapidly during 2022.
Learn more at Tesla IR: