Tesla expand their European footprint with first UK store
Received an invite to the opening of Tesla shop in Westfields Shopping Center in London. With RHD models expected soon Tesla is ramping up UK sales and distribution with the opening of a store in London's largest and only real shopping mall.
They celebrated the opening with a gala reception in the atrium of the mall. Drinks and a few bites with three model S cars plus a Q&A session with Elon Musk. The floor was pretty full of people admiring the cars and speaking with the small army of red shirted Tesla staff.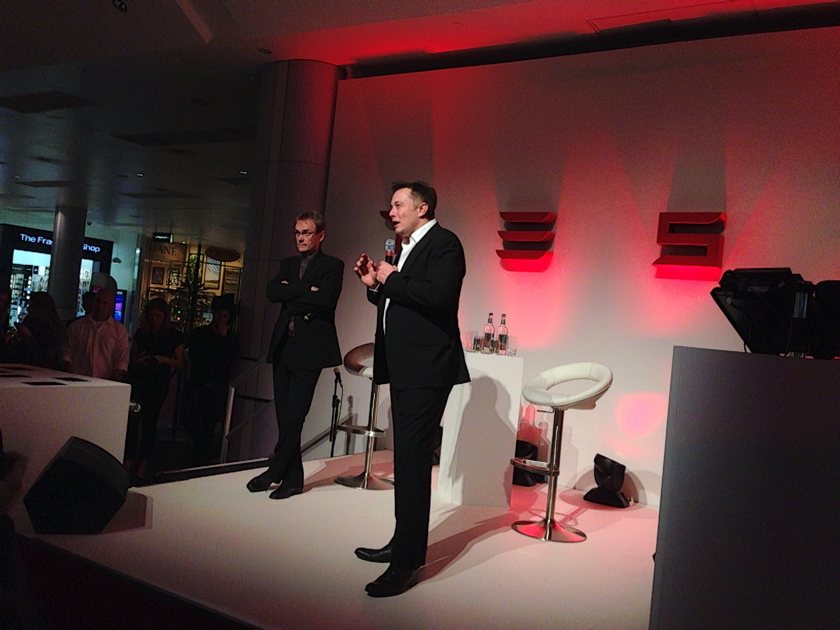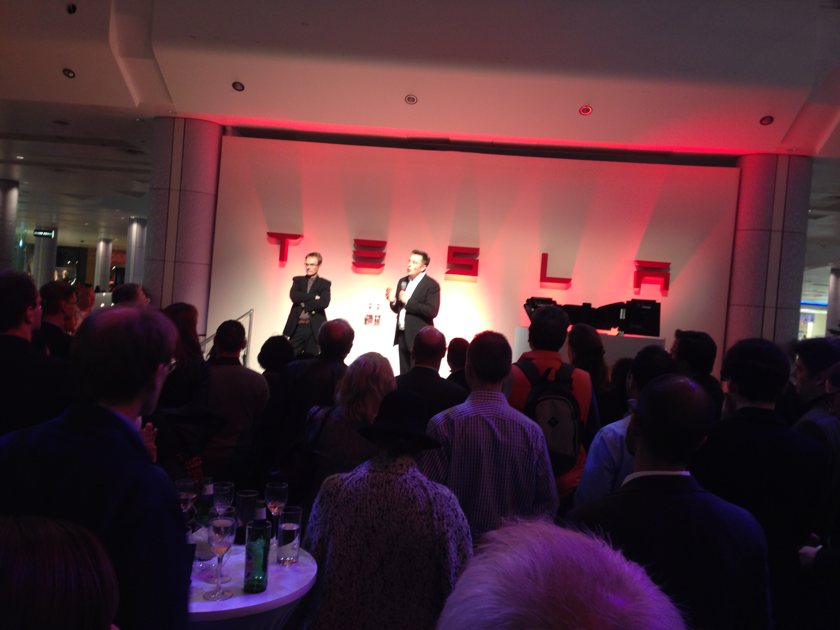 Elon gave a very quick intro talk about bringing RHD models to the UK and how it was later than he wished. He then opened the floor to questions. A bunch of questions were from reservation holders asking about when and how much. We still don't have a UK retail price. Elon suggested that the price will be fixed soon and that we should expect mid to low £50,000 for the base model as an on the road price.  The 85Kwh will be more.  First deliveries will be March 2014.
Other questions related to the size of the car for the UK and can we have folding mirrors or even replace them with rear looking cameras. All possible over time.
Model X questions. When and how much. The good news for the UK is that the RHD model X should be delivered about the same time as the LDH versions.
Questions about charging infrastructure and layout in the UK. Still in planning stage. But will be on the main routes. Battery swap depends on the experimental swap station between LA and San Francisco.
Couple questions about battery supply and duty life. I spoke with a roadster owner who had 20,000 miles and has seen a 1% capacity degradation. Seems a small issue. They are, as we know talking with Samsung and LG about complementing Panasonic.
One other guy that I was speaking with turned out to be a reporter with the FT. He asked about the sky-high valuation of Tesla. He rushed out to file his article that is in today's paper. Tesla admits market cap is supercharged.  Read it here. Elon spoke that he wants the company to achieve what ever the market cap is and they are striving to build more cars.
The store is much like other Tesla shops. 1 car and 1 chassis plus t-shirts and hats with a bunch of posters. A little unusual in London of course as it is the only one. They plan to offer test drives from Westfield and it is close to the A40, a good road to exit from London.
From the session its clear that Elon is a super smart guy and that he loves Tesla and speaking about the transition to electric cars and the electrification of transport.
He also received on stupid question from a reporter asking what sport would Tesla be if it were a sport. And one amusing question. Had the UK government called about building a high-speed train line using Elon's Hyperloop technology? They have but Elon is busy.