The Sunday Times asks WHICH IS THE BEST ELECTRIC CAR IN 2018? AUDI E-TRON VS JAGUAR I-PACE VS PORSCHE TAYCAN VS TESLA MODEL X?
On the face a strange question as two of the cars, the Audi and the Porsche are not yet available and the I-Pace is so new that very few people have seen one.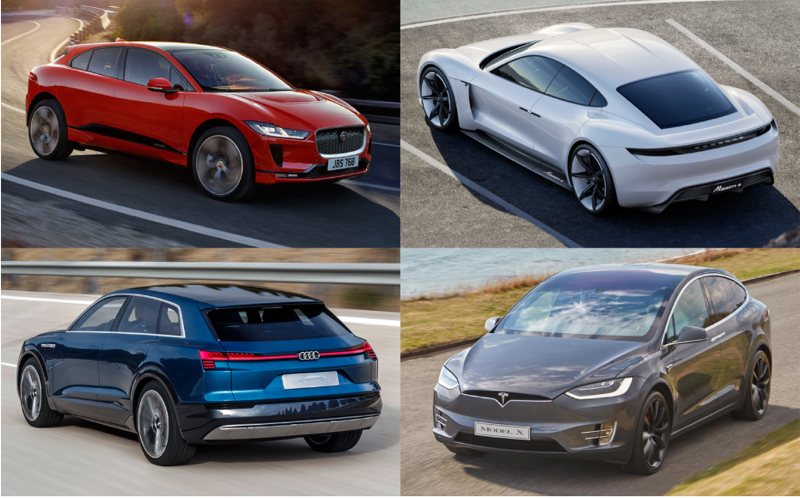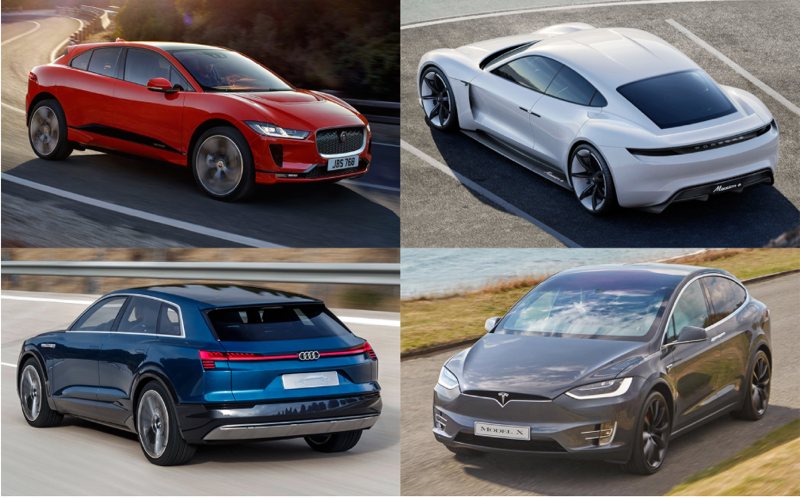 It does lead with:
A new wave of battery-powered luxury models are arriving in Britain's car showrooms, with the likes of Audi, Jaguar and Porsche joining Tesla in the battle to woo owners of posh cars who are contemplating ditching diesel or parting company with petrol.
California's Tesla may have led the charge of the upmarket electric car, launching its Model S saloon in 2013, but Britain's Jaguar has managed to get the head-start on its European rivals, beating them to the market with its recently launched I-Pace pure EV.
Audi will reveal the production version of its e-tron SUV at the end of August, which is likely to appeal to both Q5 and Q7 owners. And Porsche is in the race as it readies the Taycan, its first pure electric car that's about the size of the Panamera.
Range
For those looking at these EVs, the obvious question is how do the new luxury electric cars compare? Here, we review the specifications of the Audi e-tron, Jaguar I-Pace, Porsche Taycan and Tesla Model X, to help drivers decide which best meets their needs.
| | | | | |
| --- | --- | --- | --- | --- |
| | Audi e-tron | Jaguar I-Pace | Porsche Taycan | Tesla Model X 75D |
| Range | 248 miles (WLTP) | 298 miles (WLTP) | 310 miles (NEDC) | 259 miles (NEDC) |
Arguably the greatest concern for any driver that's not owned an electric car before is how far it will travel on a fully charged battery. Distances are improving from earlier, less powerful electric cars like the Nissan Leaf, which would struggle to better 100 miles on a charge, but there's still the largely misplaced anxiety of running out of battery juice in between charging points when driving an electric-only car.
Charging time
| | | | | |
| --- | --- | --- | --- | --- |
| | Audi e-tron | Jaguar I-Pace | Porsche Taycan | Tesla Model X 75D |
| Max charge rate | 150kW | 100kW | 350kW | 120kW |
After range anxiety, the next headache for anyone new to electric cars is how long a battery takes to charge. It's all good being able to travel 300 miles on a single charge, but if you forget or face a long journey it's good to know how quickly a depleted battery can be replenished at a public charging point, or at work.
Depending on what you're using to top up the batteries, the charging times will vary considerably. For example, when plugging the car into the regular mains household supply, Jaguar only reckons you'll get 38 miles of range out of the I-Pace if you leave it charging overnight. That's why most owners have a 7kW wallbox installed at home or at work, as it will give a full charge overnight, or in 13 hours.
Jaguar says that at a standard charging point at a service station its I-Pace should have 168 miles or so of range after an hour's charge. Once 100kW-capable charging points are available in the UK, it should also be possible to top up the battery to 90% capacity within 45 minutes.
Tesla's Model X 75D takes about 11 hours to charge at home with a 7kW wallbox, and 3.5 hours with a public 22kW rapid charger. Switch to a 120kW Supercharger and within 40 minutes it should have 80% charge.
Audi claims that the e-tron will offer 150kW DC charging capability. That means it should charge from empty to 80% in around half an hour, and reach full within 50 minutes, as and when such powerful charges become publicly available – something the company is working on in partnership with BMW, Mercedes, Ford and the rest of the Volkswagen Group, under the guise of the Ionity network. Charge at home, using an 11kW wallbox, and it will take around 8.5 hours for a complete fill.
Porsche has yet to provide comprehensive charging data for the Taycan, saying only that it has the ability to provide a range of 248 miles after 15 minutes. However, as with the Jaguar, the technology that would allow this isn't yet available in the UK.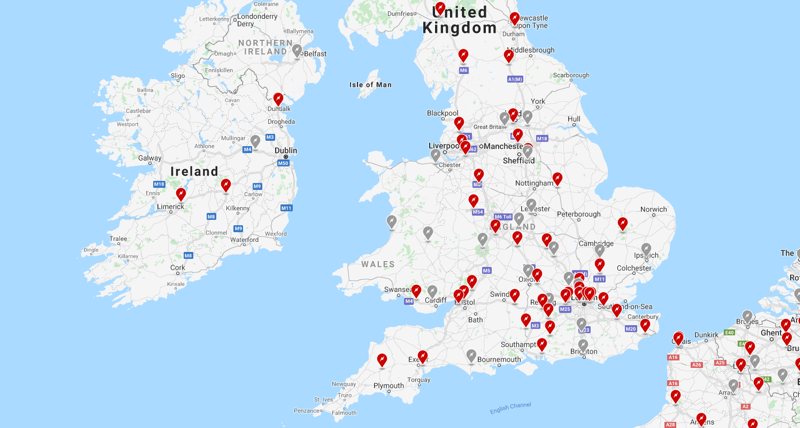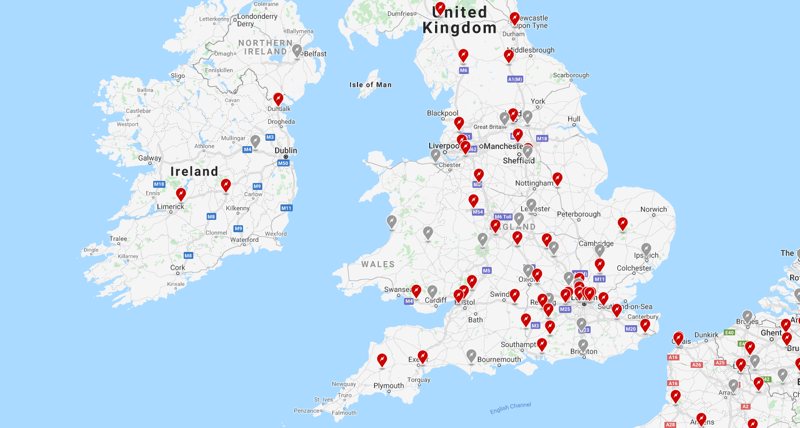 With its own Supercharger network Tesla wins the charging infrastructure game by a long way. Tesla operate 1,327 Supercharger Stations with 10,854 Superchargers. Each year, owners receive 400 kWh of free Supercharger credit, enough to drive about 1,000 miles. These credits cover the long distance driving needs of most owners, so road trips can be completely free. Customers who travel beyond the annual credit pay a small fee to Supercharge—only a fraction of the cost of fuel.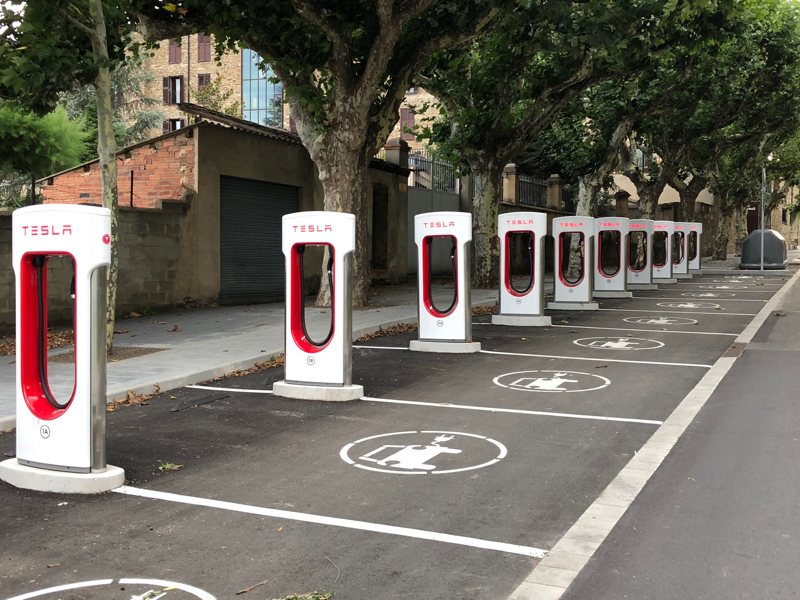 Price
| | | | | |
| --- | --- | --- | --- | --- |
| | Audi e-tron | Jaguar I-Pace | Porsche Taycan | Tesla Model X 75D |
| From | £60,000 (est) | £63,495 | £70,000 (est) | £74,650 |
Because the Audi and Porsche are not yet on sale, the final price for UK drivers is still to be announced. However, the companies have given guidance on the anticipated cost, with the Audi e-tron likely to start from £60,000 when it is revealed in showroom trim in September, and the Porsche Taycan expected to be around £70,000 – when it finally reaches showrooms early next year.
Rubbing shoulders with both is the Jaguar I-Pace, which costs from £63,495 and reaches £74,445 in top-spec, HSE trim. The Tesla Model X 75D costs from £74,650.
All four cars qualify for the government's plug-in car grant for zero-emission vehicles, which is worth up to 35% of the price or a maximum of £4500, and would be deducted from the prices listed above.
Read full article at the Sunday Times website: