Nissan UK have just released the details for the updated Leaf:
We have known the US specifications and pricing for some time and now we have ours.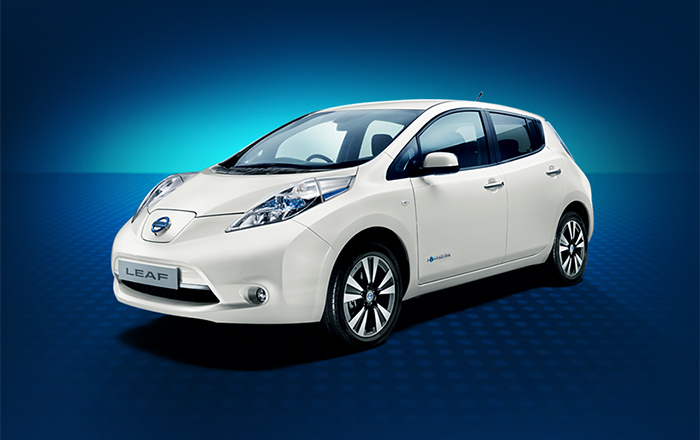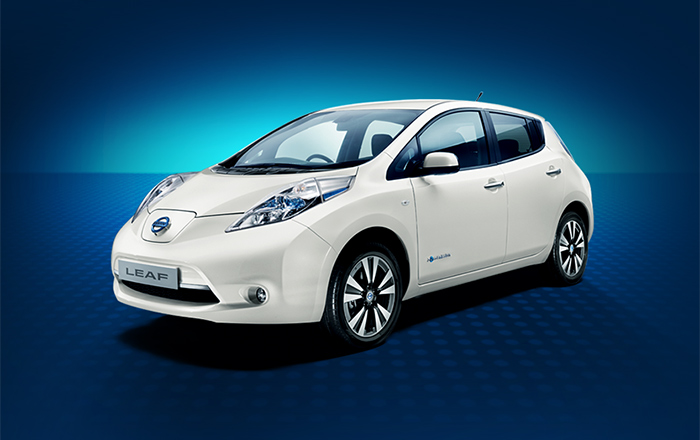 As well as updating the Leaf is terms of looks and specifications Nissan have also updated the way you can purchase a Leaf. There are now three models: Leaf Visia, Acenta and Tekna with an outright ownership or purchase prices of £21K, £23,500 and £25,500 or you can now select Leaf Flex where you own the car and lease the battery pack: These prices in turn are £16K, £18,500 and £20,500 with a £70 per month leaf battery lease cost.
We welcome the increase in options that Nissan have dreamt up as this will allow more customers to take advantage of the all-electric Leaf.
If you regard the monthly battery fee of £70 as a fuel cost which is about the same as filling the tank on any car in the UK then you can regard this as a running cost rather than a capital charge. This is reasonably smart thinking.
The 2013 Leaf offers:
INNOVATION DESIGNED FOR EXCITEMENT
Nissan's innovative customer focused approach has resulted in over 100 fascinating new features for the Nissan LEAF, including an updated Carwings system, and even a warranty plan for lithium-ion batteries. Other enhancements include an increased boot capacity, an improved front charging port area, better i-Key features and an improved overall comfort level.
IMPROVED FEATURES
THE NEW LEAF: MAKING THE BEST, BETTER
Remote access to the front charging port,  introduction of an LED  light within the charging port area, increased boot space, much improved comfort and the availability of the New Nissan LEAF in not one, but 3 versions – all as a result of customer feedback.
 COMFORT
A SMOOTH, COMFORTABLE DRIVE
QUIET, REFINED AND MORE RELAXED
The New Nissan LEAF's improved chassis, adapted by Research and Development for the European market, makes for better handling resulting in more fun and excitement at the wheel. Improvements in performance and power have meant greater choice in terms of the size of vehicle, whereas previously electric cars were tiny, funny looking cars, now they come in all shapes and sizes up to attractive family sized cars. Power  steering, air conditioning and all the comforting luxuries you're used to are all included, plus a few new ones. Your smart phone and laptop can communicate with your LEAF  so you can check out charging points on your route, start the cabin heating or cooling so it's comfortable as soon as you get in. There's no exhaust pipe and nasty fumes to inhale when you walk into the garage either, that is something to make a noise about.
PERFORMANCE
Electric vehicle performance
Dynamic acceleration and motorway speeds from an electric car
Since the first generation of electric vehicles many years ago, technology, design and efficiency have improved beyond recognition. No longer a slow, unresponsive drive – electric cars like the Nissan LEAF are now a viable, attractive option for all kinds of driver. More and more of the world's major car manufacturers now have, or are planning to introduce an electric vehicle to their range, maximising  Government incentives to make them an affordable choice. Electric vehicles now offer dynamic acceleration, improved torque and motorway speeds that deliver comparable driving experience and comfort to petrol and diesel vehicles, only quieter, cheaper and with significantly less impact on the environment. All the fun – none of the fumes.
THE NEW NISSAN LEAF AND TECHNOLOGY
Hidden within the three available models are surprising technological innovations waiting to be discovered.
Easy to use technology
TECHNOLOGY THAT'S SOPHISTICATED BUT FRIENDLY
The new Nissan Carwings system enables you to control the heating and charging of your Nissan LEAF remotely and also logs information on charging, usage patterns and distance driven.
Bose speakers and subwoofer
WHAT WOULD YOU LIKE TO LISTEN TO?
With BOSE Energy Efficient Series sound system installed within its plush exteriors the new LEAF is equipped to please. Want subwoofer bottom end? You can have it. So no matter what's playing, the New Nissan LEAF will ensure you enjoy the music to the full.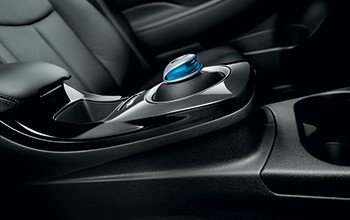 B-mode for enhanced braking response
B-MODE ADDITIONAL DRIVE
B-mode is a new additional drive mode that complements Normal and Eco drive modes. It allows you to engage in regenerative braking while decelerating and maximise energy recovery. It's particularly effective whilst going downhill.
EASY PARKING AND MORE SAFETY
The New Nissan LEAF comes with an Around View Monitor (AVM) that helps you to park precisely. A network of cameras helps that you see the vehicle's 360° surroundings as from above. The result: perfect parking every time.
Nissan Leaf charging:
Nothing easier
All about charging
Most Nissan LEAF owners recharge their cars at home. The 6.6kW charger option lets you charge your Nissan LEAF at home in just 4 hours using a 32A Home Charging Unit. The dashboard LEDs indicate the status of charging. Charging port illumination is standard on all grades, the Nissan LEAF Visia, Acenta and Tekna. To stop charging the lithium-ion battery your Nissan LEAF, simply unplug the cable.
You can find below detailed information on the various ways to recharge the lithium-ion battery of your Nissan LEAF.
The Nissan LEAF lithium ion battery
Nissan LEAF's battery has the ability to retain the maximum possible charge capacity even after multiple charges.
Resulting from 20 years of experience and investment, Nissan LEAF's lithium ion battery is compact, powerful, safe and durable.They are located under the car; in other words, that means you have more room in the boot and the cabin while still enjoying a long-range (up to 124 miles on a single charge) and speeds up to 90mph. And true to Nissan LEAF's minimal environmental impact, the lithium-ion battery is also more than 95% recyclable.
EXTENDING YOUR PEACE OF MIND
NISSAN LEAF OWNERS TO RECEIVE A BATTERY WARRANTY EXTENTION
Nissan is so confident in their revolutionary lithium–ion battery that we are expanding your warranty for all European owners retrospectively. Now, all Nissan LEAF drivers will be covered if the battery range goes below 9 out of the 12 bars displayed on your dashboard, over a period of 5 years or 60,000 miles. That means a guaranteed high performance!
STANDARD ELECTRIC CAR CHARGING WITH THE NISSAN EVSE CABLE
Your Nissan LEAF comes with a 6 metre long cable* allowing you to recharge your battery using a standard household outlet** in about 10 hours. The cable can also be used on some public charging stations throughout the UK.
The recommended method of home charging is via a Home Charging Unit installed by Nissan's Electro-mobility partner, British Gas. The unit will be installed on a dedicated 16A or 32A circuit ensuring total safety and peace of mind.