Lord Drayson and Drayson Racing set a brand new world electric land speed record for a lightweight electric car at RAF Elvington late on Tuesday evening after reaching an official top speed of 204.185mph.
The former science minister and winning race driver set the new record after averaging the top speed over two measured-mile runs. The run was watched by a number of special guests – including Google executive chairman Eric Schmidt.
The record-breaking run was conducted late in the day as the sun started to set: there was no margin for error. Lord Drayson spoke on Sky News between his two timed runs, after setting a 203.75mph top speed in the first attempt: the pressure was on to turn around the car within the hour but the team made it – and went even faster, with a following wind.
In order to qualify for an attempt on the Federation Internationale de l'Automobile's (FIA) world electric land speed record it had to make its vehicle weigh less than 1,000kg (2,204lb) without the driver.
To do this it adapted a Le Mans Series car it had previously designed which originally had a bio-ethanol fuel engine and replaced the part with a lightweight 20 kilowatt hour battery offering 850 horsepower.
It also adapted the vehicle's chassis, which is made out of recycled carbon fibre, to minimise air friction.
"What it, I hope, shows to people is just what the future potential of electric cars is," Lord Drayson told the BBC shortly after his record-breaking time was confirmed.
"Obviously this is a very special racing car, but by setting this new world record here in Britain we say two things.

"One it is a pointer to the future – the technology that we developed for this car will filter down to the cars we use every day.

"And secondly it's a message about how here in the UK we're a world leader with this technology. We've led motorsport engineering, now we're also leading with electric motorsport engineering."
Google's Eric Schmidt spent time with the Drayson Racing team ahead of its record-setting run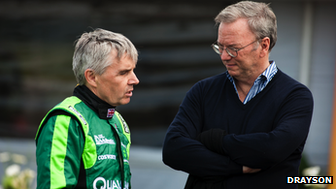 Google's chairman Eric Schmidt spent two hours at the race track watching practice runs but was not able to stay for the record-setting drive.
"Google has a very active R&D programme with regard to electric vehicle technology so it's great that one of the world's leading technology companies came to our event today," Lord Drayson added.
"It was lovely meeting him."
Formula E
Drayson Racing's attention will now switch to the launch of the FIA's Formula E championship, which is due to begin in September next year.
London will host the first electric car race. Rome, Miami, Beijing and Rio de Janeiro are among the other seven locations.
A different vehicle – similar to a Formula One machine – is being developed for the firm by Singapore's Spark and Surrey-based McLaren for the first year of the competition.
However, Drayson Racing plans to build its own machine for the 2015 competition using some of the same components used in its record breaking Lola B12 69/EV.
One analyst said such such efforts were an excellent way to promote electric cars, but questioned how many of the technologies being developed would actually find their way onto the road.