This is a question we get asked a lot in relations to the Spring or Coiled cables.
The coiled cables are beneficial in that they help to keep the cable off the ground thus keeping them cleaner and dryer than if they had been lying on the tarmac or car park. In the UK with our inclement weather patterns dry and clean are nice to have, especially when you need to put the dirty cable back in the car. A clean cable helps keeps your hands and boot area clean and dry.
Our 5M 32 Amp coiled cable starts life as 5M of three strand insulated copper cable. With a clever process of heat and pressure the cables are then coiled into a loose spring.
Of course, once the genie is out of the lamp you can never make a coiled cable, non-coiled again. Yes, you can stretch it, but it will never reach 5M.
Just how far will 5M stretch?
To use the cable both end needs to be safely and securely attached to the Type 2 post and the car. You don't want huge pressures on the connections that are attempting to pull the connector out of the charge point. Plus, you don't want to stress the connections in the cable where the strands connect to the charge pins.
The 5M cable will stretch to 4M if you pull and hold both ends securely. While this is the maximum the cable will stretch too you would not want to use it like this. The force and pressure would be too much, and I doubt the cable would stay in the charge point without significant magnetic pressure.
A safe length is more around 3.6M distance between and charger.
These images show our Tesla Model 3 charging while 3.5M from the Pod Point post.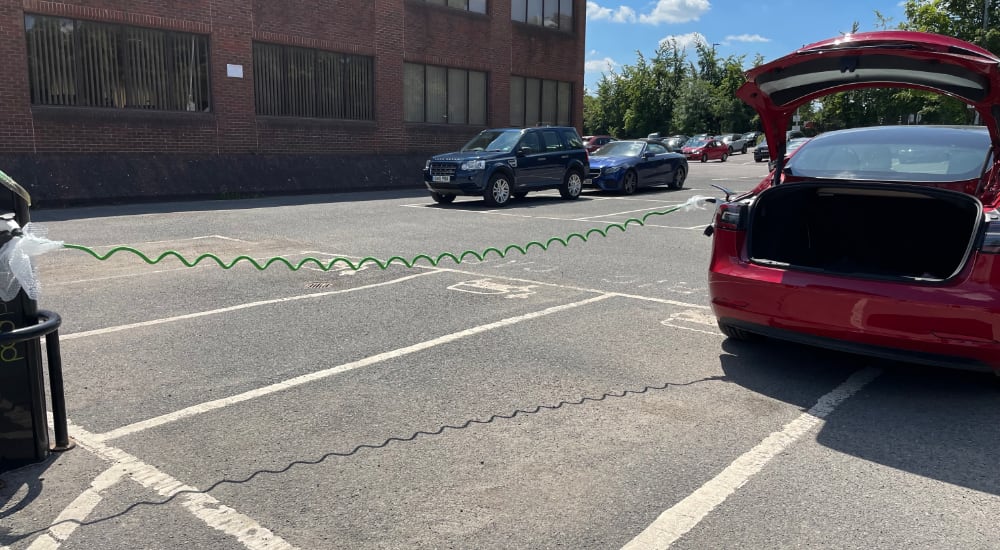 Summary
The 5M coiled charging cable is fine for 3.6M between the car and charger. Possibly a little longer at a stretch.