March used to be the highlight of the motor trade as car sales surged in line with a new shiny license plate designation.
Looks like those days are behind us. March 2022 posted the worst car sales for that month since 1998. While 243,500 cars were still registered, that's a 14.3% reduction year-on-year – and this in a new number plate month, which typically accounts for around 20% of the overall annual figure.
The switch to EV continues to ramp as March 2022 was still the best month on record for electric cars sales, with 39,315 of them finding new homes. That's not only a 78.7% increase over March 2021, it's more electric cars than were sold in all of 2019. Shockingly the top two best selling cars in March 2022 were both Teslas.
If you include the hybrids that the industry classifies as mild, full and plug in then cars with some sort of electrification account for around 1 in 3 cars sold.
Don't mention Diesel
Diesel car market share is down 55% Year on year and now holds a market share of just 5.7%. BEVs alone now have a 15.4% market share – though conventional petrol still dominates with 42.6% of the market.

March sales data
The brand new Tesla Model Y sold 6,464 times, beating the Model 3 by just seven units, as the Model 3 sold 6,457 vehicles in March. The Model Y and Model 3 are neck-and-neck in Year-to-Date sales, ranking sixth and seventh, respectively, the Model Y has 7,774 sales, and the Model 3 has just one fewer delivery with 7,773.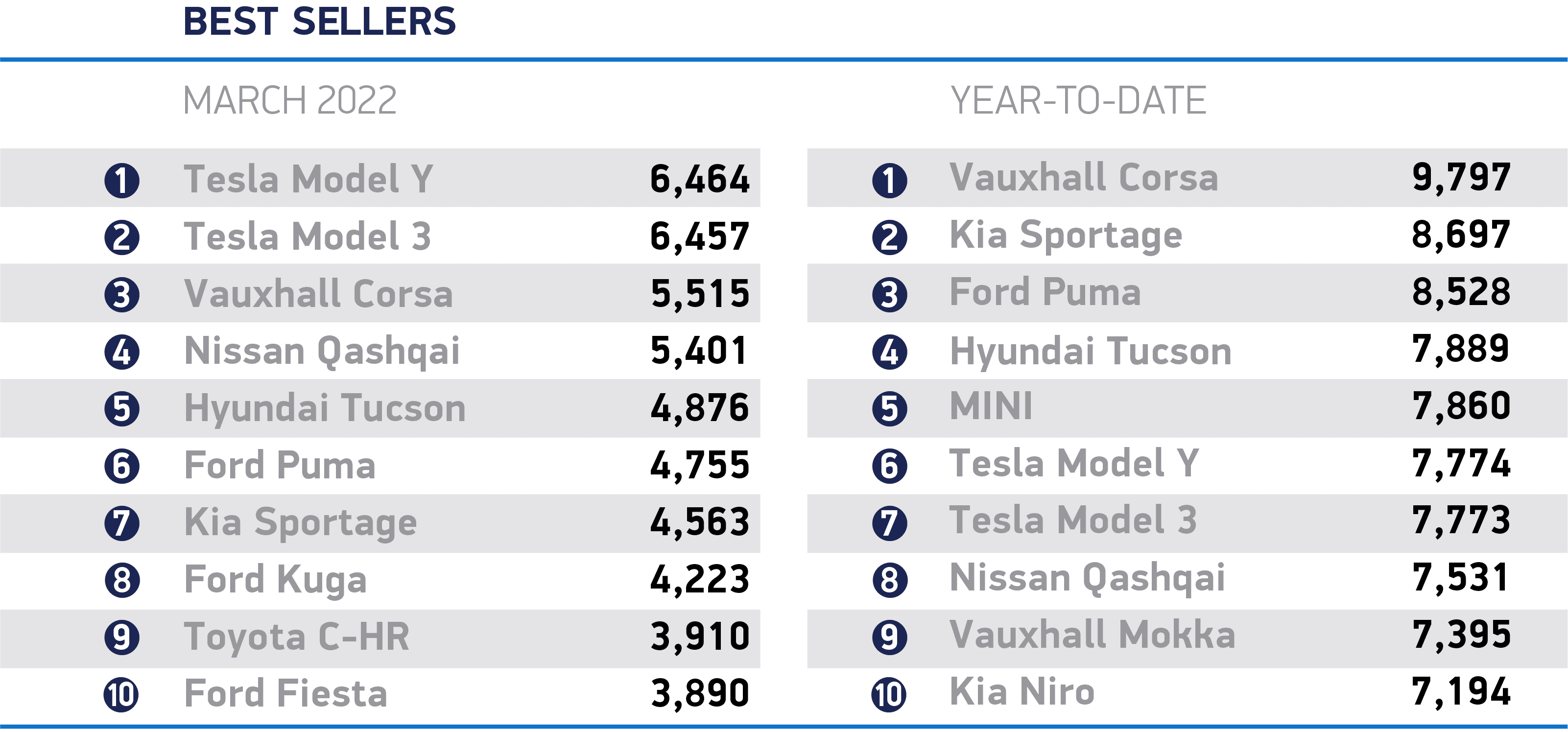 Lets estimate revenue year to date with some SWAG and you can start to see how Tesla is sucking the cash out of the other manufactures.
The Corsa starts at £17330. Lets use £20K as average value. This gives Vauxhall £196M.
A kia Sportage starts at £26,745. Lets use £30K. This gives Kia £260M.
Ford Puma is around £25,000. This gives Ford £213M.
Compare to Tesla revenue from the Y of £420M and 3 of £375 using £54K and £48K respectively or a total of around £800M.
Looking at the longer term the figures of car sales make grin news if you are a dealer or manufacturer. Sales are down every month compared to the prior year.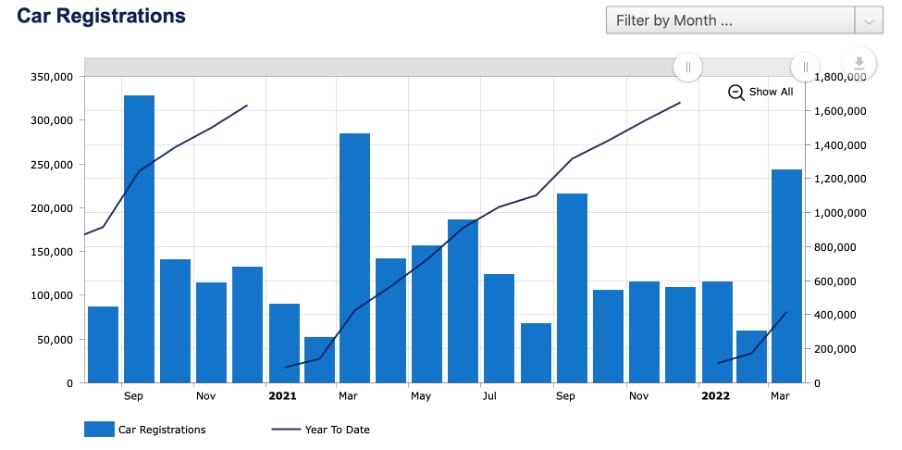 Tesla continues to buck the trend
Last weekend, Tesla announced it had delivered 310,048 vehicles globally in Q1. It was the eight-straight quarter Tesla reported growth in deliveries, with the Model Y and Model 3 leading the way with 295,324 units making their way to customers. In Q2 sales figures will include output from the two new factories coming on stream. Both Texas and Berlin are now starting to produce Model Y vehicles. – Dismal news for BMW, VW and others.
Source SMMT data site