Late on April 2nd Tesla published Q1 production and delivery figures.
From January to March 2021, Tesla delivered 184,800 electric cars to customers, including 182,780 Model 3 and Model Y and 2,020 Model S and Model X. The previous record quarter was Q4/2020 with 180,570 deliveries.
We collected our Model 3 in March from a Tesla collection centre at Thorpe Park and were shocked at the thousands of model 3 awaiting collection so the numbers are not a huge surprise based on UK first hand observations.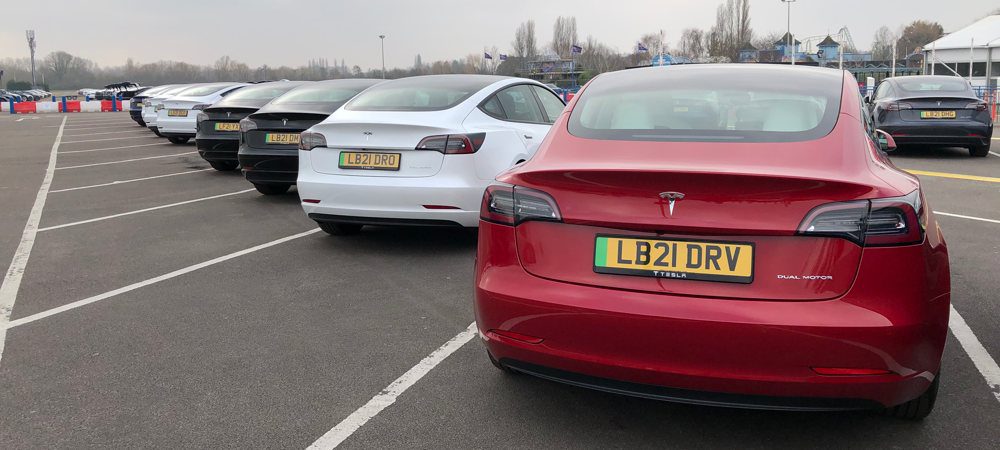 Both number were higher than Wall St and Main St were expecting. Analysts were expecting Tesla to deliver around 168,000 vehicles during this period, according to estimates compiled by FactSet as of April 1. Tesla stock was up 5% to $691 on Monday.
| | | |
| --- | --- | --- |
| | Production | Deliveries |
| Model S/X | – | 2,020 |
| Model 3/Y | 180,338 | 182,780 |
| Total | 180,338 | 184,800 |
As you can see no model S or X were produced in Q1. In the press statements Tesla mentioned that there we encouraged by the strong reception of the Model Y in China and are quickly progressing to full production capacity. The new Model S and Model X have also been exceptionally well received, with the new equipment installed and tested in Q1 and we are in the early stages of ramping production.
Growth rates
Tesla's latest delivery numbers represented more than a 100% increase from the same period last year when the company first began deliveries and volume production of Model Y. However, Tesla Q1 deliveries increased by just over 2% from the quarter ending 2020 when Tesla delivered 180,570 vehicles.
During the company's most recent earnings call, CFO Zachary Kirkhorn said that in 2021: "Specifically for Q1, our volumes will have the benefit of early Model Y ramp in Shanghai. However, S and X production will be low due to the transition to the newly re-architected products."
At an annual shareholder meeting in 2020, CEO Elon Musk told shareholders he expected deliveries to hit an implied range between 477,750 and 514,500 cars for the year. Tesla hit the mid-range of that window, delivering 499,550 cars for the year, its best sales volume to date.