Tesla just sweetened the EV deal
If you can take delivery of a new Model Y or Model 3 by the end of the year you will get 6,000 free supercharging miles.
With any Tesla you can re charge you car from the network of Tesla Superchargers. The charge fee is automatically billed to your card as Tesla knows the owner of the car.
What is the vale of 6,000 miles?
A good rough calculation shows a Model 3 or Y gives close to 5 miles per kWH. Thus 6,000 miles would take around 1,200 kWh of power. At say 60 pence per kWh that is worth over £500.
If you drive 6,000 miles in your standard ICE machine at 35 MPG that would use around 175 gallons of fuel. That's about 800 litres and at £1.70 per litre would cost £1,350.
Tesla site shows
Tesla has decided to grant free Supercharger credits, equivalent to approximately 6,000 miles of driving, if you take delivery of a Tesla vehicle between December 15 and December 31, 2022. The free Supercharger credits will be credited to your Tesla Account in the month of January 2023 and will remain valid for a period of two calendar years from the delivery date. The free Supercharger credits cannot be transferred to another vehicle or person and cease to be valid in case of an ownership transfer of your vehicle. Tesla shall not be liable in the event that delivery of your vehicle, for whatever reason, cannot happen before December 31, 2022, and you're not able to benefit from this promotion. Used vehicles are excluded from this promotion.
A quick list of the Model Y stock shows plenty of Standard Long Range starting at £51,000 in any colour apart from White. Plus the long range versions.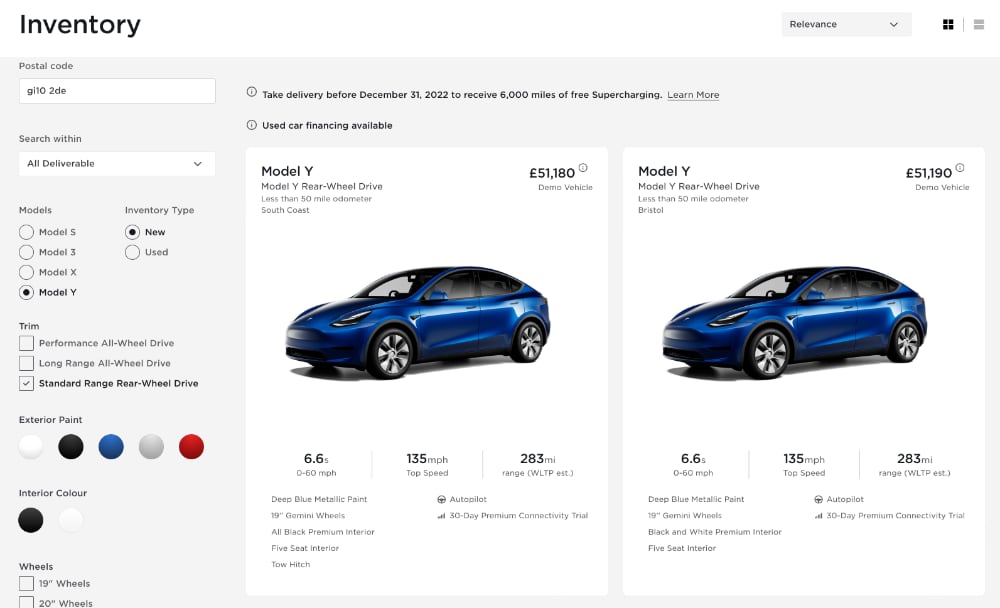 Model 3 cars have the same deal: 6,000 miles free.
Here the stock starts at just £45,500 with the base model in White.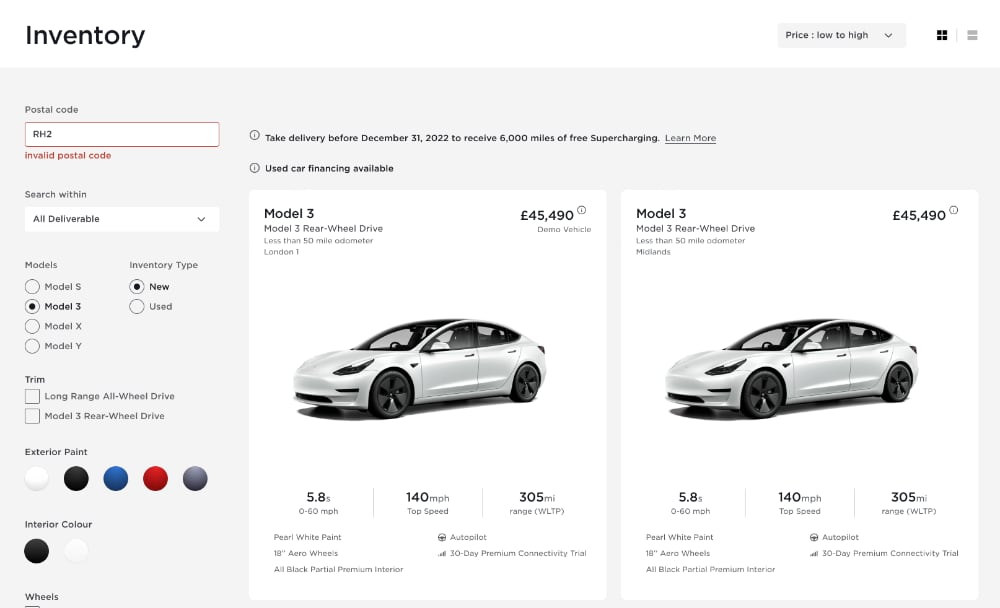 See stock at Tesla UK site:
Buying a Tesla? You can use our referral link to get 1,000 free Supercharger miles on a new Tesla! Tesla Link