Shock as Sony shows car not Playstation 5 at CES Press event.
Sony Reveals Vision-S Concept EV and stakes claim to be member of the Electric-Car Future.
Sony's appearance at the CES technology show was highly anticipated mainly in the hope its new PlayStation 5 gaming console would be revealed. Nobody anticipated an Electric Car Concept but that what they got from the maker of many small electric devices and long time lover of rechargable bateries.
As it turned out, Sony only showed a logo to tease PlayStation 5, but the Vision-S, Sony's electric concept car, was rolled out onto the stage near the end of the company's presentation, surprising just about everybody. Sony said the Vision-S is part of a new initiative to put on display its technological prowess and capabilities in the area of mobility; the company made no suggestion that the car was destined for production.
The all-wheel-drive concept sits on a newly developed EV platform that Sony says would be adaptable to coupe, sedan, and SUV body types. It is powered by a dual-motor system and weighs 5180 pounds. Sony's specs estimate a zero-t0-60-mph time of 4.8 seconds and a maximum speed of 149 mph. The company didn't offer details about battery capacity or range.
This prototype embodies our contribution to the future of mobility and contains a variety of Sony's technologies,

Sony CEO Kenichiro Yoshida said at the unveiling.
It's a four-seater, with a clean and minimalist cockpit. The dashboard incorporates both a digital instrument display and huge touchscreens that stretch across, bookended by screens for its door mirror cameras. Much like Honda's e city car.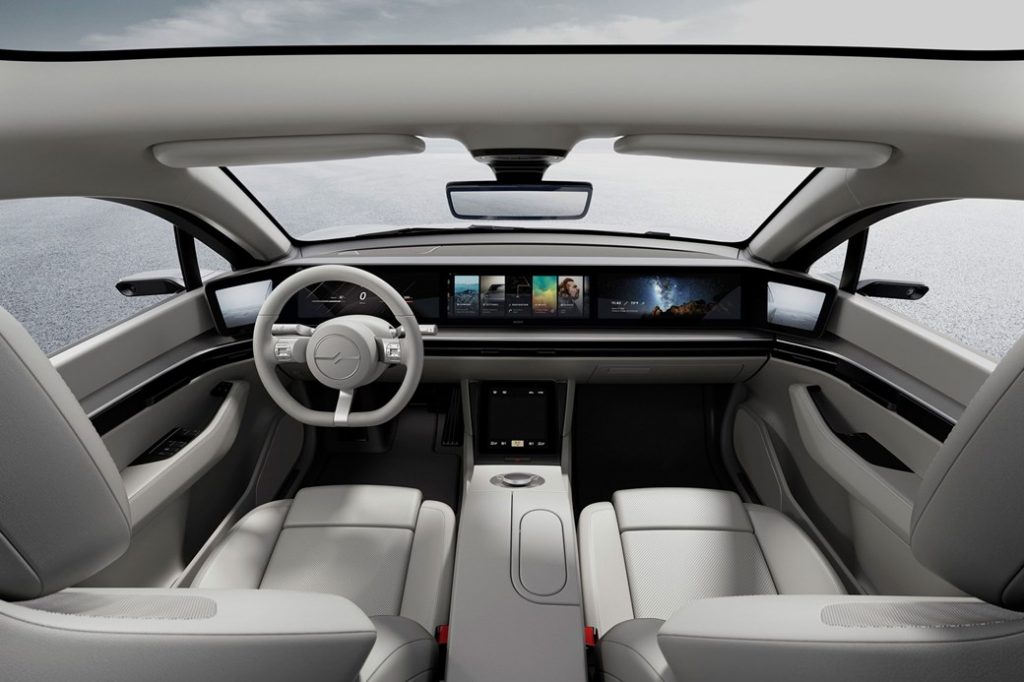 There are also rear-facing screens on the backs of the front headrests.
The Vision-S's design appears to be a blend of Tesla's Model S, the Porsche Taycan and the Audi A7 (particularly at the rear), with 21-inch wheels. It's shorter and slimmer than Tesla's evergreen saloon, but the Vision-S is around 20mm taller.
Sony is also keen to point out the safety capabilities of the Vision-S. There are 33 sensors on the car – everything from surround-view cameras, ultrasonic sensors and LIDAR and driver monitoring facilities. Sony says its technology allows for Level 2+ autonomy.
No mention of battery pack size, range or charging options.