The Porsche Taycan is set to the brands first full EV, and now we know what it's actually going to be called.
All the facts
Back in 2015, the Mission E was unveiled with the Taycan codename, but now Porsche has revealed it'll be called the Taycan. The name change was announced on Porsche's 70th birthday by Porsche's CEO Oliver Blume, alongside news of a new Speedster concept. And if you're interested, we're told the Taycan name translates in a Eurasian dialect to 'lively young horse.'
At the 2015 Frankfurt motor show and the announcement of the all-new Porsche Mission E, shown in concept car form (above). It looked like one of Stuttgart's finest, but everything inside it seemed to be alien. Where was the flat-six engine? If Porsche had jumped on the EV bandwagon, surely the internal combustion engine's days were numbered?
Three years later, we have a much more measured, balanced view of EVs, and they're shifting relationship with ICE-powered cars. In 2018 everyone's releasing an EV – or at least announcing an ambitious plan for electrification, and our roads are peppered with Nissan Leafs and a swelling number of Teslas. Now, the idea of an electric Porsche isn't a shocking novelty, and it needs to be backed up with some serious specs, infrastructure and competitive performance.
What is Porsche Mission E?
The Porsche Taycan (formerly the Mission E) is an all-new supercar that'll fit somewhere between the Panamera and 911, and will feature an all-electric powertrain. It has been spotted being benchmarked against Tesla Model S and Model X EVs.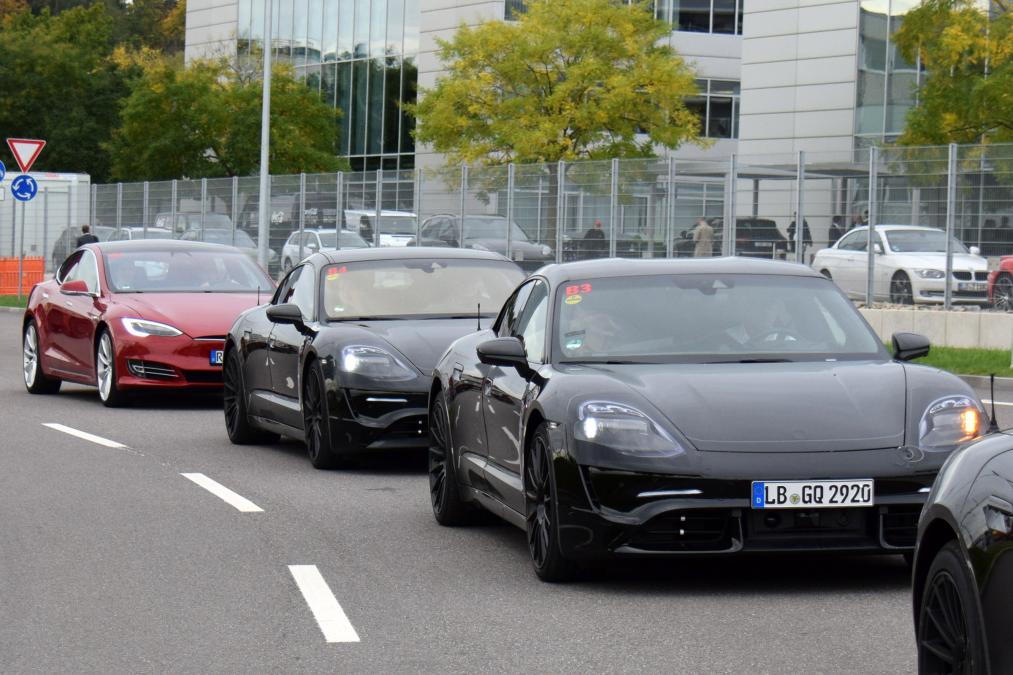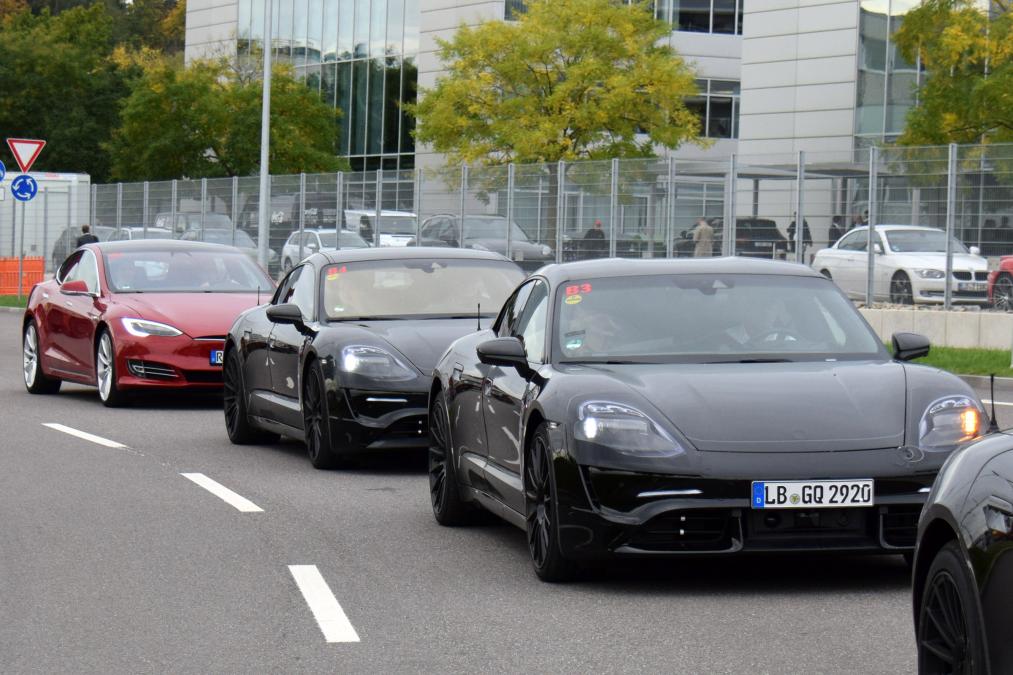 'With Mission E we are making a clear statement about the future of the brand,' said Porsche board chairman Dr. Wolfgang Porsche, speaking in 2015. 'Even in a greatly changing motoring world, Porsche will maintain its front-row position with this fascinating sports car.'
In the wake of the ongoing emissions scandal rocking Porsche's parent company VW, electric drivetrain technology is being fast-tracked throughout the VW Audi empire.
How fast is the Porsche EV?
Porsche claims the Taycan will pass 62mph in 'less than 3.5 seconds', dashing past 124mph in just a dozen seconds. Top speed meanwhile will be 'more than 155mph'. The dual-motor layout delivers four-wheel drive and the 911's four-wheel steering features for agility that would surprise most four-seaters. The batteries are mounted as low as possible within the composite construction for a ground-hugging centre of gravity. There are also two recesses within the skateboard-like battery, for better rear occupant legroom.
In Stuttgart at the company's annual earnings conference, Porsche let slip that the Tayxan would be powered by LG batteries from South Korea – but that the cells have been designed and built specifically for the Taycan, so they're not appearing in any other EVs. Steiner added that longer term, Porsche would be pooling its resources within the VW Group to eventually produce its own batteries.
Is the Taycan a real Porsche?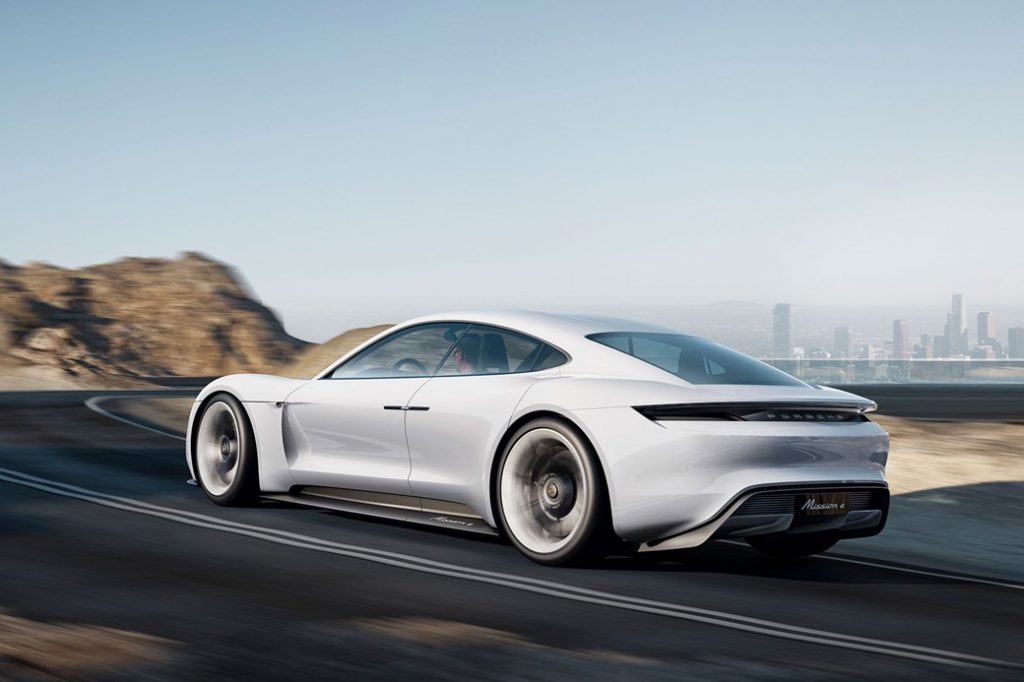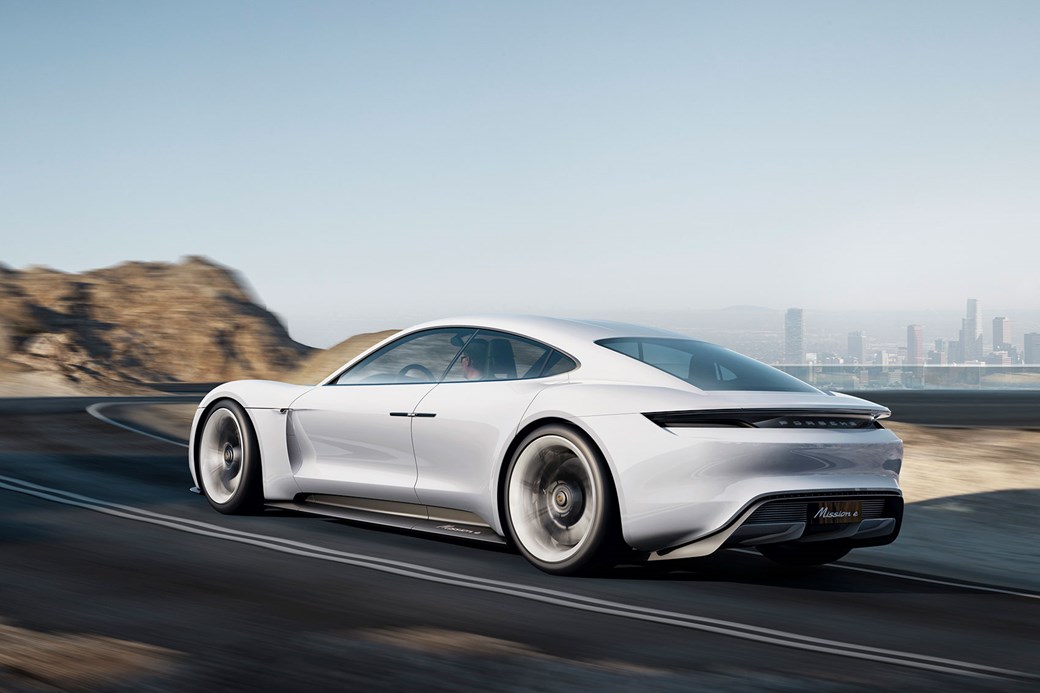 Sort of. 'The Porsche Mission has been developed in-house at Stuttgart from start to finish, but Porsche is working with its VW stablemate on a separate platform called the Premium Performance Electric or PPE,' said Stefan Weckbach, head of BEV at Porsche. That's BEV as in Battery Electric Vehicles, in case you were wondering. 'E-mobility is a Herculean task, and that's also true in monetary terms. Group-wide cooperation is therefore a huge plus for us.
'We're working very closely with our counterparts, in particular at Audi, on the use of joint modules for the e-vehicles we are currently planning. The brands are also working on the joint development of a platform for new BEV projects in the future.' We should expect three SUV or saloon models from that in the future, enabled by the economies of scale sparked by working with sister brands. By teaming up, Audi and Porsche are jointly saving 30% in R&D costs.
Of course the Porsche Cayenne is based on the Audi Q7 and the Macan on the Audi Q5.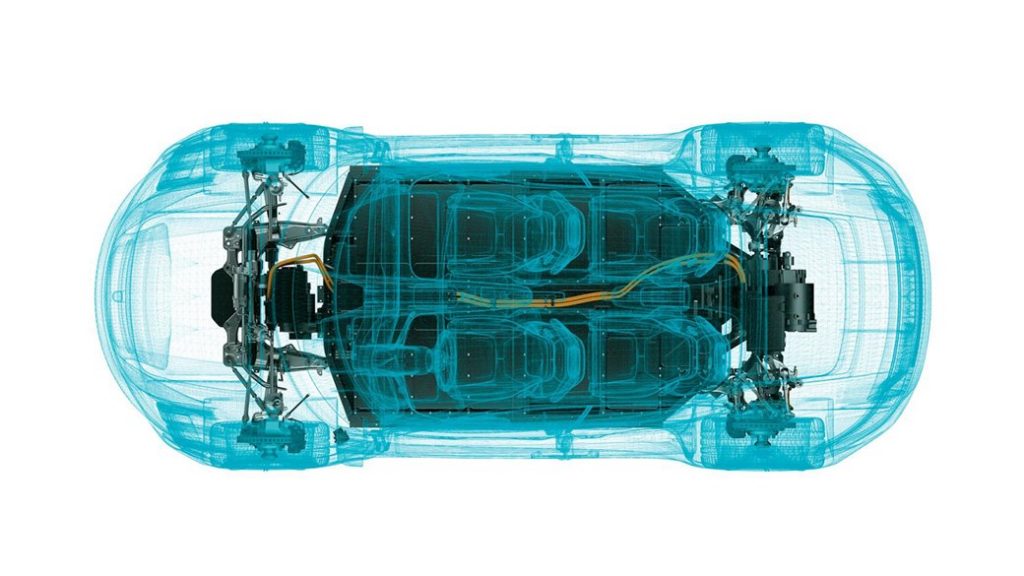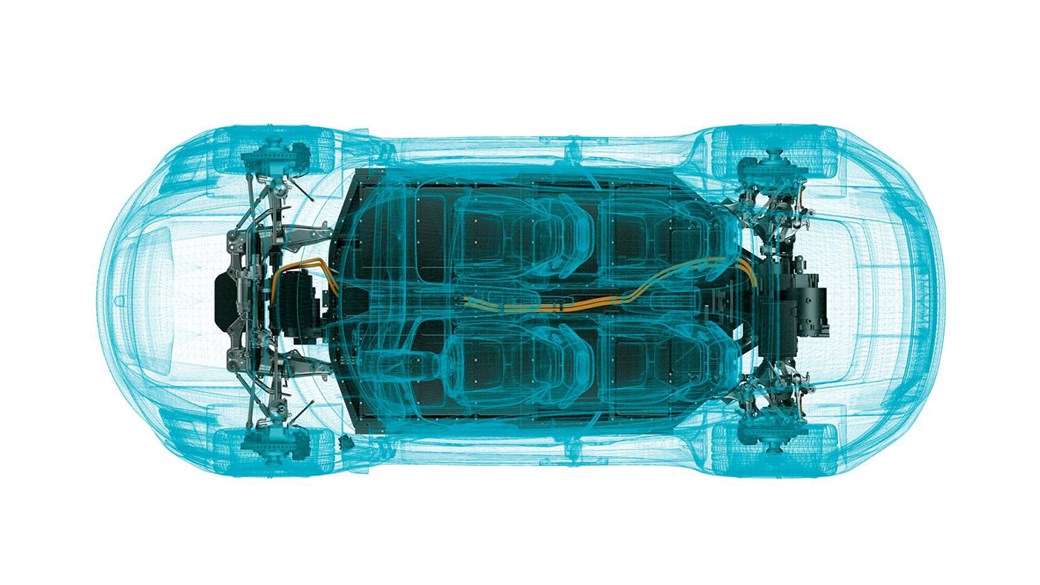 What are the Taycan specs?
Three years ago, the Mission E promised impressive specs, but Porsche realises it's been chasing a moving target ever since the car was announced – and that won't stop when the car is finally released in 2019. Power electronics and battery tech are moving at such a fast rate, Porsche is still unsure if it'll be offering incremental upgrade packages to early customers.
Tesla is happy to offer performance improving software updates with startling frequency, whereas Nissan tends to save any Leaf updates for refreshed models.
However, with performance and speed being such an important part of the Mission E concept Porsche is considering how to factor in life-cycle improvements to the Taycan.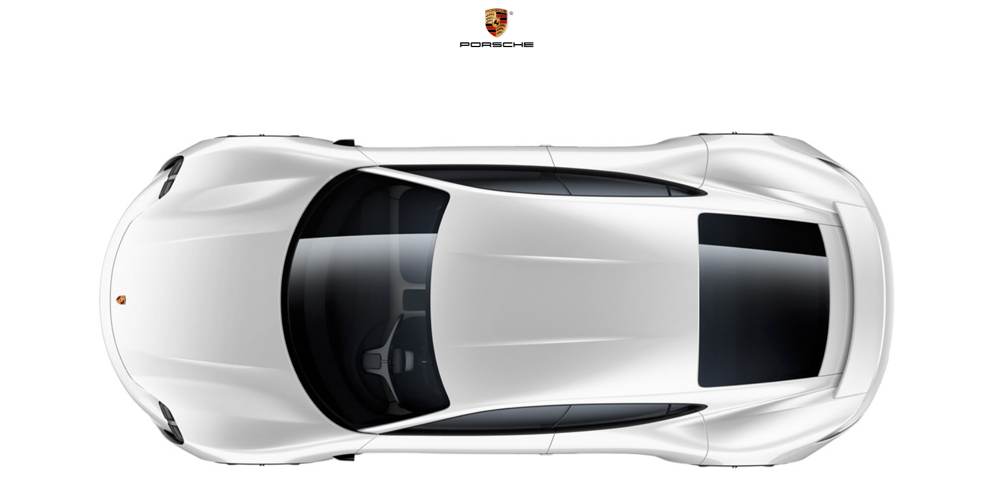 Porsche plan to use 800 volts with PSM 'permanently excited synchronous machine' – an electric motor with extremely high power density, high-efficiency and consistent performance over the entire range of speed and distance. Concept Study Mission E features two of them: one on each axle with a total of more than 440 kW (600 hp) to give a range of over 500 Km.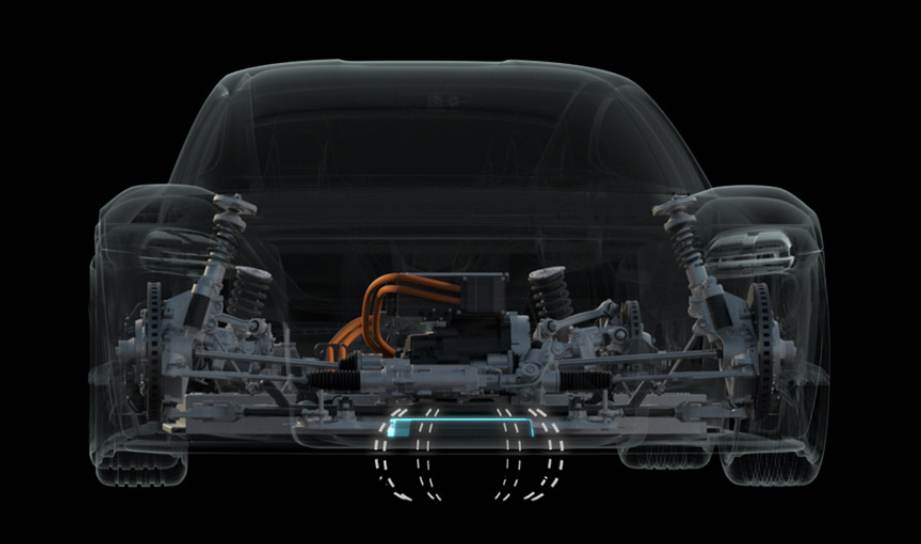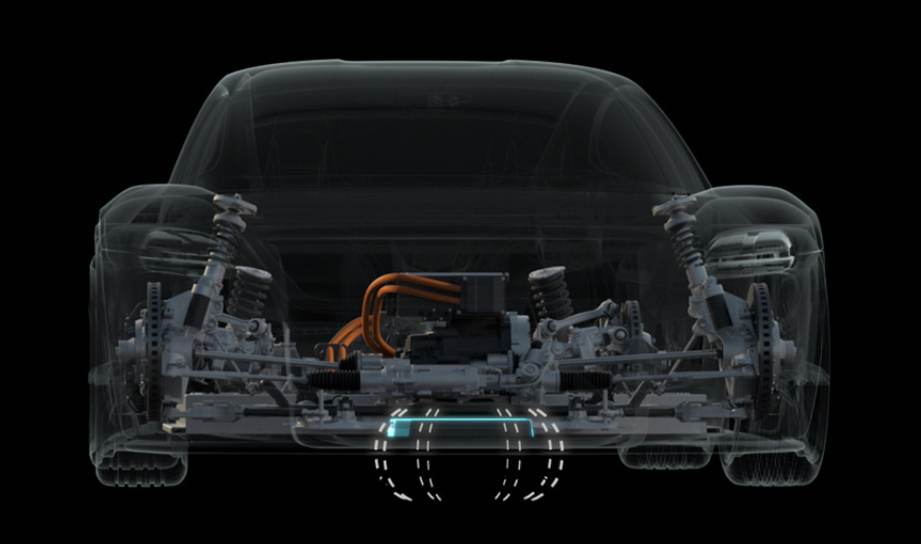 Or use a standard Type 2 charging cable.


Where does it fit?
Porsche is planning to offer its Taycan EV in three different power outputs and will price the fast four-door in a similar ballpark to the Cayenne and Panamera. This points to a launch price of around £75,000 in the UK when sales start in 2019.
Offering a choice of performance levels gives the Porsche EV a wider market appeal, different price points and an answer to the Tesla Model S, which also comes in 75D, 100D and P100D flavours. We understand the Taycan will be available with some very familiar-sounding badges, reflecting the performanceincrease.
Carrera 300kW equivalent to 396bhp
Carrera S 400kW equivalent to 529bhp
Turbo 500kW equivalent to 661bhp
One constant question Porsche has to face right now is: 'how do you make it feel like a Porsche?' And it's a reasonable thing to ask, especially when it comes to electric cars. Take the 911 GT3; it's one of the most responsive cars on the road – thanks in part to its naturally aspirated flat-six – but how do you deliver that instant response and hit of acceleration in a marketplace where e-motors with tonnes of torque and linear power delivery come straight off the shelf?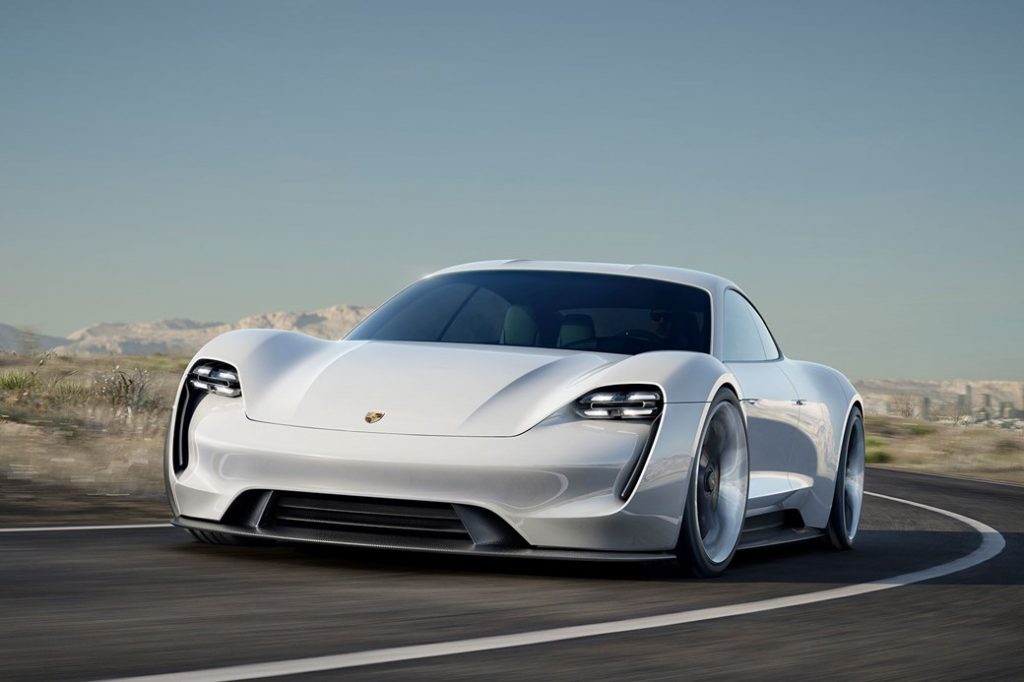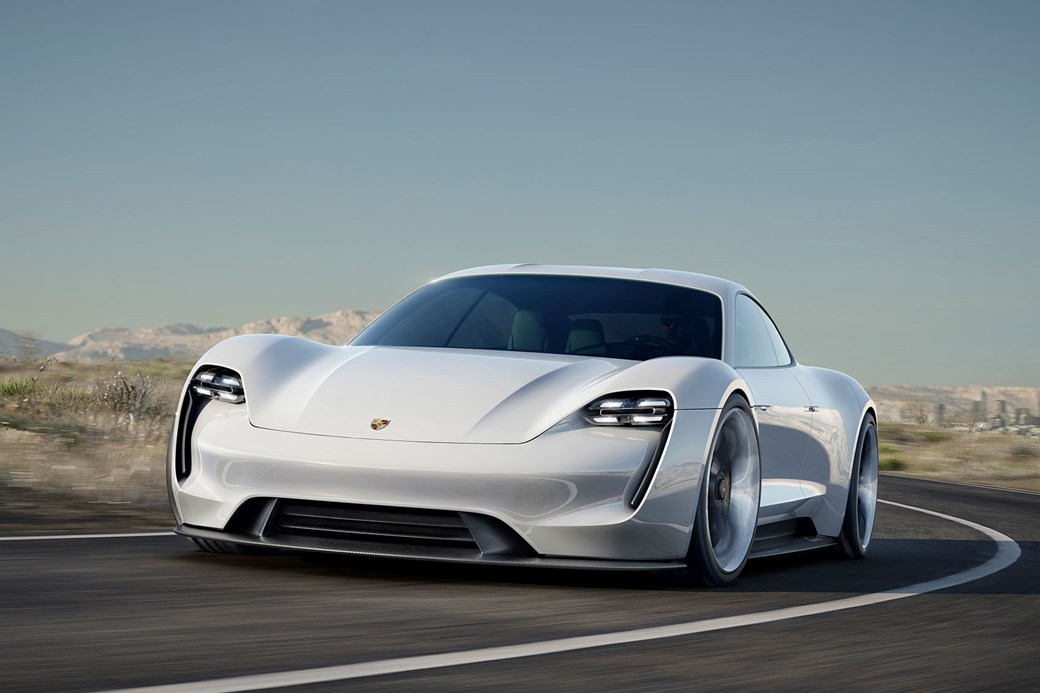 The quick answer: Porsche says it'll be going deeper into the response and power characteristics of EVs, and there's more to it than just pure acceleration. For example, steering and braking feel are both something Porsche prides itself on, and the company expects them to be a good area of differentiation in its EV. No wooden brake feel here, say the engineers.
And unlike other cars such as the Tesla Roadster, which can only achieve its headline-grabbing figures twice before needing to cool down, Porsche wants its car to deliver the same level of performance at all times.
'Porsche drivers won't need to worry about throttling performance,' said Weckbach. 'The Mission E will offer reproducible performance and a top speed which can be maintained for long periods, he vows.
The Taycan will sound like an electric car, in the same way that the 911 GT3 sounds like a flat-six monster. That is, while the car's acoustics may be tuned to sound as pleasant or aggressive as possible, there won't be any synthetic BMW i8-style noise.
'Porsche is unlikely to lower itself to gimmicks of this kind or use sound effects to mimic a bubbling eight-cylinder,' explains Weckbach. 'But we will give due consideration to sound as an emotional factor in the Taycan, using the design approach typical of Porsche and incorporating a clear reference to the technology.'
What's more, Porsche believes there's more to driving dynamics than the metallic roar of an ICE behind you, and that in the future, the sound of thousands of tiny explosions won't be so associated with driving excitement anyway.
Charging
Porsche wants to ease Taycan owners into the world of electric charging, and it's going to use a combination of hardware and software to do it.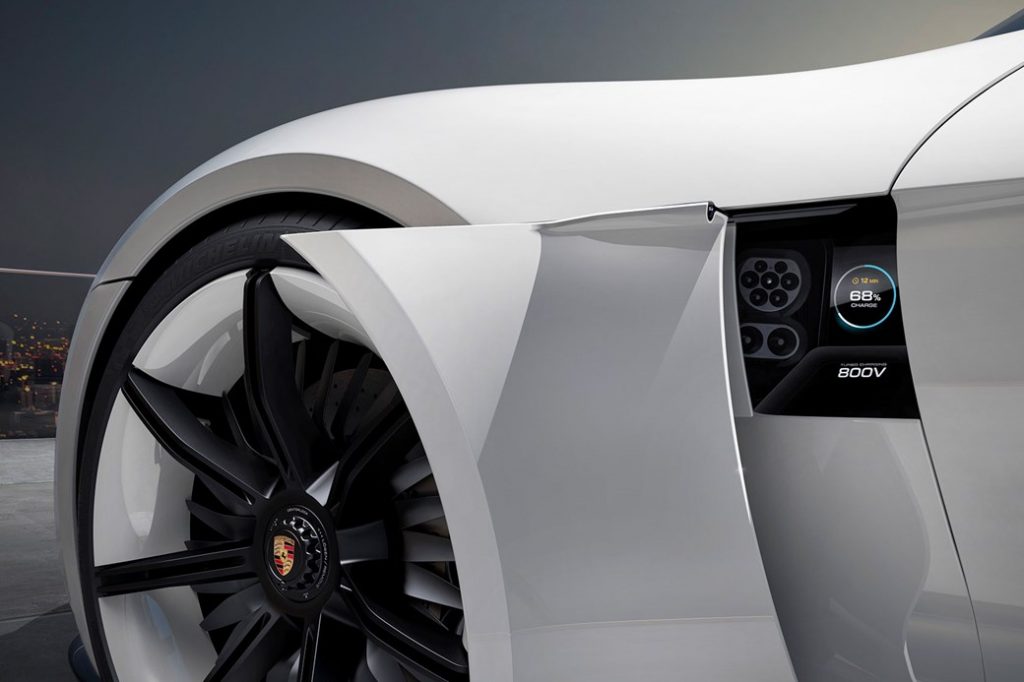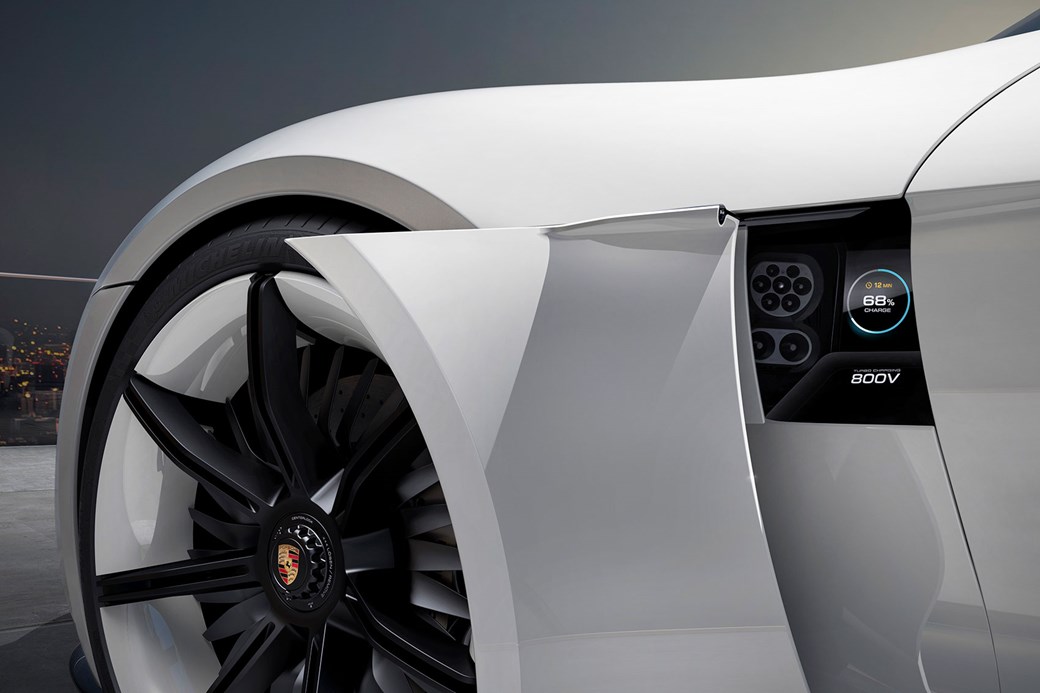 For example, in a step above Tesla's own Supercharger network, Michael says Porsche drivers will be able to easily reserve charging spots as part of a normal sat-nav-led journey.
'Take the Turbo Charging Planner for our battery electric powertrains as another example,' said Michael. 'Quick-charge options are optimally matched to your route planning and charging pedestals are pre-reserved, meaning that you can gain that all-important advantage and lose as little time as possible. Added value of this kind helps to determine the essence of the brand.' Unlike Tesla, which sees charging as a financial incentive to buy into its ecosystem, Porsche wants to use charging as an additional revenue stream.
 Interestingly, Porsche isn't too keen on rolling out its fastest charging technology to everyone's homes, either. Instead, it'll offer an extended range of wall chargers, with different models catering for different cars and use cases.
'We'll also be able to tailor charging output to customer needs. For example, 3.6 kW for a plug-in hybrid or 7.2 kW for drivers who want to go faster in their Porsche vehicle. For purely electric vehicles, the customer can choose between 11 kW and 22 kW.'
There is also talk of Inductive charging, just drive over a base plate and the car is re-charged automatically. For this to work the car and the plate need to be super close.
Factory
The new Taycan will be built in Porsche's Zuffenhausen plant, alongside the 911 – but with space and time at a premium, the extra facilities needed for the Taycan are being built around the existing, working factory. A portion of the plant is currently closed whiles the lines are re arranged for the Taycan.
It's an unprecedented move for the marque, and quick glance at the proposed layout essentially shows the new factory filling in any gaps around the site. The task to essentially retrofit more facilities has been so unusual, that Porsche has had to construct an 800m conveyor belt to take Taycans from the body shop to the paint hops. Around €700m is being invested in the site 
For Porsche, building its first all-electric car is a huge learning curve in more ways than one. And it'll be the same for customers, when they first get their hands on the Taycan at the end of the decade. This promises to be one of the most fascinating EVs yet on sale – and one aimed squarely at old-school 'petrolheads' keen to make a stepchange into the new electric era.
What's it like?

Porsche brand ambassador Mark Webber loves it.

Learn more at the Porsche Mission E Micro site: