Tesla will provide 200 Models S and Model X to Dubia Roads and Transport Authority or RTA. Elon attended the opening of a new Tesla store and picked up the order at the same time.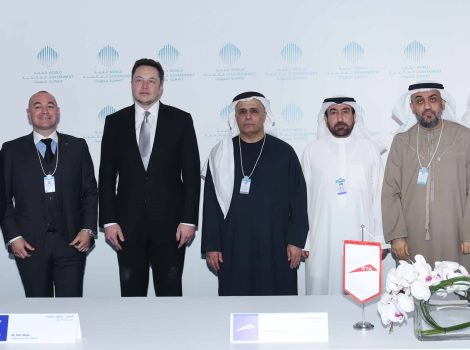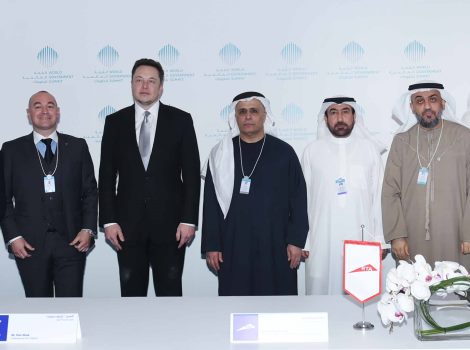 In a statement issued Tuesday, the Dubai transport authority said that it will purchase Model S sedans and Model X SUVs autonomous vehicles from Tesla. They will be added to the limousine fleet of the Dubai Taxi Corporation.
The agreement was signed by Mattar Al Tayer, director general and chairman of RTA, and Tesla CEO Elon Musk at the World Government Summit 2017.
Financial terms of the deal were not disclosed. However at retail prices of say £75,000 each thats a £15M day.
"This agreement is in an implementation of the directives of HH Sheikh Mohammed bin Rashid Al Maktoum, Vice-President and Prime Minister of the UAE and Ruler of Dubai, to transform Dubai into the world's smartest city, and the Green Economy for Sustainable Development initiative," Al Tayer said in a statement.
The Dubai Smart Autonomous Mobility Strategy is designed to transform 25% of total journeys in Dubai into autonomous journeys by 2030. The city is also working with a Chinese on a flying cars project.
Tesla in branching into the Oil states and just opened its first store in Dubai to sell and maintain electric cars in the United Arab Emirates. Tesla store and office are located on Shiekh Zayed Road, which is one of the busiest roads in Dubai.
Commenting on Tesla's store opening in Dubai, Al Tayer said, "Tesla has been selected for its pioneering endeavors in the manufacturing of electric vehicles. The company is focused on improvement and creativity in autonomous driving as well as the storage of power. Tesla is the sole producer of autonomous deluxe electric vehicles and as part of its efforts to utilize alternative energy sources; it took over Solar City Company."
Moreover, Al Tayer said that the RTA plans to conduct a test run of Tesla autonomous electric vehicles on public roads in Dubai.
Tesla said that Model S received the highest possible safety ratings at launch and has the longest range of any electric vehicle. While its Model X blends performance and utility with unique features including falcon wing doors, a panoramic windshield, and seven-seat configuration, offering unprecedented convenience and maneuverability.
The Autopilot is designed as a hands-on experience to give drivers more confidence behind the wheel, increase their safety on the road, and make highway driving more enjoyable by reducing the driver's workload. Tesla said it will provide the Dubai city the Model S and the Model X vehicles that are equipped with the hardware required for full self-driving capability.
Tesla set to report Q4 and full year results next week on Feb 22nd. See Tesla IR site for details.
Save
Save
Save