The Renault Nissan Alliance will concentrate on mass-market electric cars, rather than luxury models, CEO Carlos Ghosn told reporters at the recent Tokyo Motor Show
The success of the Tesla Model S has automakers–particularly German automakers–scrambling to build pricey luxury plug-in electric cars to compete with the upstart from Silicon Valley. But the automaker that's sold more electric cars than anyone else plans to continue in a different direction.
The Renault Nissan group will not produce a rival to the Model S or Model X, Ghosn said during a roundtable session at the recent Tokyo Motor Show. Asked by a journalist if Renault-Nissan planned to build a large luxury EV to compete with the Tesla Model S, CEO Carlos Ghosn said, "No, you're not going to see that. Frankly we are concentrated on the mass market, the core market. We think that going niche is very small volume, and there is already somebody doing a good job there, so why go after the segment?"
If the company moves in any new direction with electric cars, it will be crossovers, Ghosn said. Crossovers are currently experiencing a boom in the U.S., as well as Europe and China. You can see the whole interview in the video below. Watch the full 44 minutes to learn more about Nissan.
Concentration on the mass market could mean the on-again, off-again Infiniti electric car will remain on the back burner.
Since displaying the Infiniti LE concept at the 2012 New York Auto Show, executives have vacillated about committing to a production luxury electric car.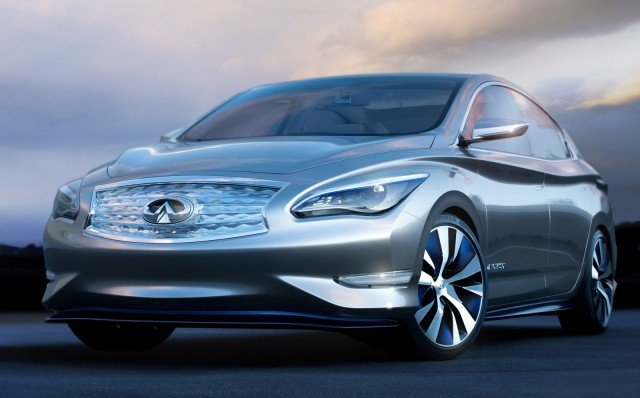 The LE was a four-door sedan based on then-current Nissan Leaf underpinnings, using a 100-kilowatt (134-horsepower) electric motor and 24-kilowatt-hour lithium-ion battery pack. It also featured wireless inductive charging, with a 50-kW DC charging pad that would be placed on a garage floor. – These sound great but we remain unconvinced of their practical use or value. 
The LE received generally positive reviews for its design, but was gradually ignored by the Renault-Nissan management.
Infiniti recently said that it does not see demand for an electric car, and doesn't expect that to change for at least a few years.
On related news the new Infiniti Q30 is the first major new car to be manufactured in the UK in over 23 years will roll off the production line in Sunderland today.
The move upmarket has meant money for robotics as well as people: 134 new robots have been installed in a completely automated body shop and 300 jobs have been created.
Nisan has invested £250m, including £9.2m from the government's regional growth fund, and trained 4,000 staff on Infiniti customers' requirements. Priced from £20,550, the brand is pitched against models from Audi, Mercedes-Benz and BMW, as well as Toyota's Lexus.
Nissan's Sunderland site, the UK's largest car plant, currently makes the Qashqai, Note, Juke and the all-electric Leaf. Last year it produced 500,237 vehicles — one in three UK-made cars. Since production began in 1986 the plant has made more than 8m.
Trevor Mann, Nissan's chief performance officer, said Infiniti Q30 production was creating more than 1,000 UK motor jobs. It also means the Sunderland site, which exports 80 per cent of its output, will send cars to the US and China for the first time.
In the short term, Nissan is likely to focus on the next-generation Leaf. Expected in 2017 or 2018, the second-generation Leaf will likely offer a variety of electric ranges–with the highest approaching 200 miles.  It's unclear whether Nissan will add models beyond the second-generation Leaf, but it's been slow to do so up to now. Nissan currently sells the Leaf and e-NV-200 van in Europe and Japan but the US only gets the Leaf.  
Nissans partner Renault currently offers the subcompact Zoe ZE hatchback, Kangoo ZE small commercial van, and the tiny two-seat Twizy low-speed electric car.