Europe has sluggish car sales – apart from the UK most market are hurting
So when we learn that the BMW i3 is selling well in Europe that's big news.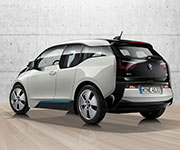 According to Automotive News, the German automaker has over 8,000 reservations for the i3 and is considering a production boost above that of the 10,000 cars it originally intended to produce in the car's first year.
The company will "adjust capacity according to demand", said BMW's Chief Financial Officer Friedrich Eichiner. If demand continues at its current rate, he said, the company will soon have to invest more in i3 production.
The i3's early popularity, at least in terms of reservations, is a breath of fresh air for the European car industry, which has so far struggled to shift electric cars in truly impressive volumes.
Through July, just 12,000 Nissan Leafs had been sold in Europe since going on sale. Renault has fared a little better–its 5,000 Zoe electric cars may not sound like many, but represents just four months sales through July, having debuted in Europe in March.
European deliveries of the i3 begin on November 16, with the first cars hitting U.S. roads in the first half of 2014. The car starts at £30,800 and BMW have some attractive lease options.
Profitable sales
"The interest in the i3 electric car is generally a good sign," said Sascha Gommel, a Frankfurt-based analyst with Commerzbank. "BMW has already absorbed the research and development costs for the vehicle and the car is profitable. So every car sold contributes to profits."
BMW has invested at least 2 billion euros ($2.7 billion) on developing the "i" series, analysts say. BMW developed the i3 from scratch rather than converting an existing model, an approach to electric vehicles that contrasts with other conventional automakers.
The i3 is the first car for BMW's i sub-brand. The i8 hybrid supercar will go on sale next year. More models may be on the way. BMW has trademarked i1 through i9, Ian Robertson, BMW's sales chief, said in July.
The spending on development of new models and expanding production capacity caused the operating profit margin at BMW's auto division to narrow to 10 percent in the second quarter from 12 percent a year earlier.
"We'll have to work very hard to keep profitability within our target corridor" of 8 percent to 10 percent in the coming years because of large investments required to meet stricter emissions regulations and the weak car market in Europe, Eichiner said.
No production halt
The rollout of the i3 will go ahead as planned next month and won't be impacted by issues that typically affect the ramp up of a new model, Eichiner said. The executive was responding to a report by the German publication Wirtschaftswoche over the weekend that said problems bonding carbon-fiber components for the car led to a 10-day production halt.
With the i3, BMW joins Renault and Nissan in betting heavily that electric cars will win wider consumer acceptance despite their high price and limited range compared with vehicles powered by internal combustion engines or plug-in hybrids.