The monster German car company VAG have been slow to enter the Electric Car world. This is changing slowly with the unveiling of the VW Up Twin concept car. From the images and press talk this car is coming to Europe soon.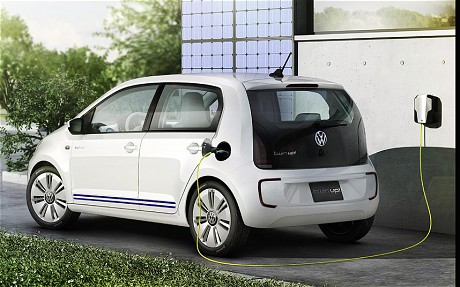 The Up Twin uses an 803cc turbo diesel engine in series with a 27kW electric motor and a seven-speed DSG gearbox to deliver a Euro Test combined fuel consumption of 256.8mpg with only 27g/m of CO2 emissions. Your figures may be different.
The drive-train is based on the funny looking VW XL1 vehicle that claimed over 300 mpg.
The new Twin Up's twin-cylinder diesel engine and electric motor each produce up to 35kW, while the 8.6kWh lithium-ion battery pack, 12-volt battery and 33-litre fuel tank are all located between the rear seats and the boot.
Efficiency is assisted by refined aerodynamics and low-rolling resistance tyres. With the lithium-ion battery pack, it weighs 1,205kg.
On electric power alone the Twin Up can operate at speeds of 77mph and accelerate from 0-37mph in 8.8sec, with a range of up to 31 miles depending on use. Using diesel and electric motors together, it can accelerate from 0-62mph in 15.7sec, with a top speed of 87mph. Combined torque peaks at 159lb ft.
Under braking, the electric motor acts as a generator to recharge the battery, while under certain conditions the diesel engine also charges the main battery.
It looks similar to the all-electric e-Up, with twin blue stripes along the flanks. The 'Sparkling White' paintwork of the Tokyo concept includes blue flakes that subtly change the cars colour according to the ambient light.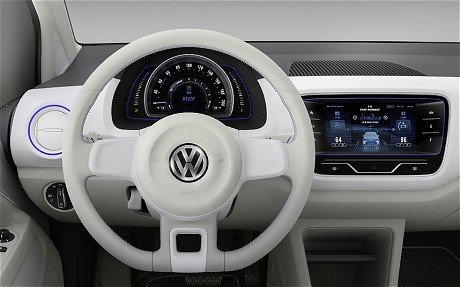 Inside, there's a bespoke instrument panel featuring all-digital instrumentation. The visual image and content of the instruments change according to whether the Twin Up is in hybrid or all-electric mode. In hybrid mode the accents are white, while in pure electric mode they are blue.
The central infotainment screen is configurable by the user, while for the first time in a Volkswagen the automatic climate controls sitting below it below are all-digital.
The concept's interior features an off-white colour to complement the exterior, with a fabric and leather combination upholstery featuring blue piping and reflective strips on the seats' centre panels.