The car company Renault are conducting a UK ZE tour to show and demonstrate their range of electric vehicles.
These include the Twizy, Fluence, Kangoo Van and the Zoe.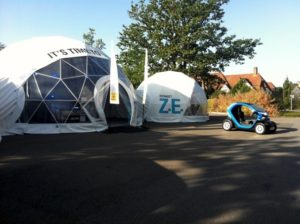 The demo team are touring the country. Stops include London . Birmingham, Norwich, Nottingham. Bournemouth. We caught up with them in Wisely Gardens just off the M25 / A3 junction.
The display showed a number of Kangoo Vans, plenty of Twizy models a couple of Fluence cars and a single Zoe.
We drove a Twizy and it was just great – reasonable solid, fast enough, quiet and solid even with half doors.
People tend to stare at you on the road as you drive past. This is quite exciting.
Renault were also providing lots of information on the charging systems and EV infrastructure that makes owning an EV feasible. They highlighted the Source with over 500 charging points in London active today with plans to grow that to 1,300 by 2013.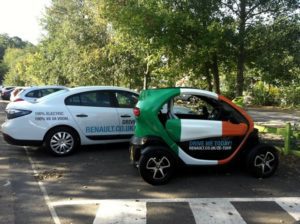 Renault showed a selection of EV cars that could be driven including the Kangoo EV Van.