Nissan announced a partnership with Enel, Europe's second largest power company for installed capacity, to develop a new "Vehicle-to-Grid" initiative to use, store and return to the grid electricity in excess from Nissan's electric vehicles.
The initiative appears to be a revival of Nissan's "LEAF to Home" program, which appears to have been abandoned years ago. Although the new program seems to be more focused on providing a service to the grid rather than backup power, which was the focus of "LEAF to Home".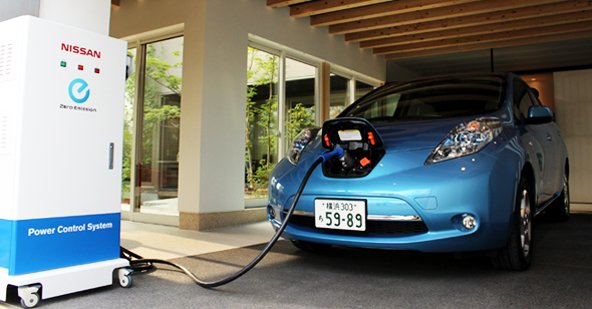 Nissan and Enel confirmed that trials are already underway to test the viability of 'Grid Integrated Vehicles'. Nissan Europe Chairman Paul Willcox commented on the announcement:
"Nissan is the world leader in electric vehicles. We've being doing it longer than anyone else, we've sold more than anyone else and we've got plans for the future that are more credible than anyone else. Our pioneering partnership with ENEL is a perfect example of those plans, taking the car beyond a pure road vehicle, and using it to charge your home or office. It ultimately means that electric vehicles can now become a fully integrated part of our national electricity systems right across Europe. A sustainable transportation future demands better connections between vehicles, utilities, renewable energy sources and buildings. This is why today's announcement is so important – it's the first step towards a truly integrated automotive energy eco-system.As the energy and automotive sectors converge, and as we look toward to an ever electric future, the opportunities for enhanced energy management have never been stronger. Vehicle-to-Grid technology represents a step closer to this vision and underscores Nissan's commitment to the entire EV ecosystem – it goes way beyond driving."
The agreement with the ENEL Group will bring the first Grid Integrated Vehicles to countries where regulation allows sufficient value generation. Denmark will host the first set of trials with Germany, Netherlands and other northern European regions following suit. This endeavour is part of Enel's and Nissan's commitment to support the entire electric vehicle ecosystem, going way beyond the car itself and delivering new services to the power industry.
In a press release, the two companies gave an interesting example of the potential of a fully integrated grid with electric vehicles:
"In France for example, where there are 38 million vehicles and where the current electricity generation capacity is 130 GW, a future where all vehicles on the road are EVs/PHEV, the grid integration of the vehicles could generate a virtual power plant of up to 380 GW (3 times the national generation capacity of France)."
To help explain this concept see the chart below: First add a large battery to your house. Connect to a Smart Grid that has the ability to add and take power from your new battery and LEAF. Charge the house pack and car when the sun shines and when demand increases, take power from the combined house and car pack.


Tesla is also believed to be working on a similar vehicle-to-grid system based on comments made by Tesla CTO JB Straubel and its tie up with SolarCity and Powerwall.