UK new car car sales plunged 44pc in March as coronavirus drove away motorists and shut down the industry.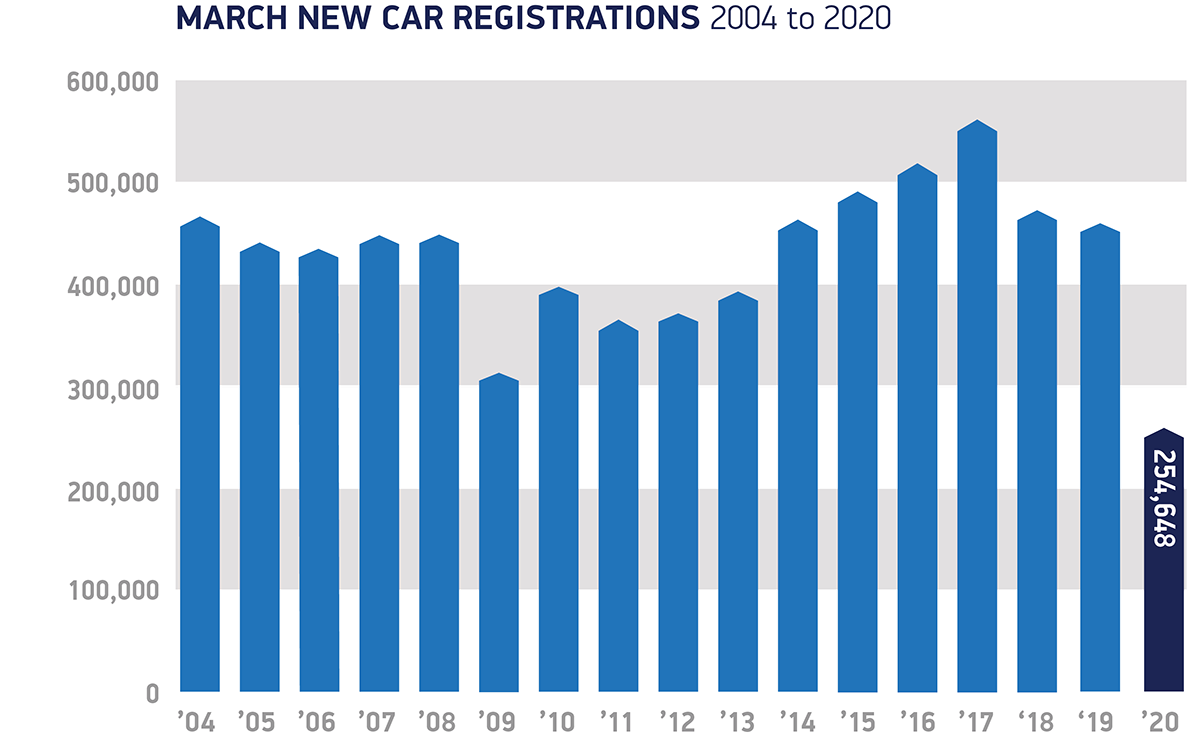 Just 255,000 vehicles were sold in the UK last month, according to the Society of Motor Manufacturers and Traders – down from 458,000 a year earlier.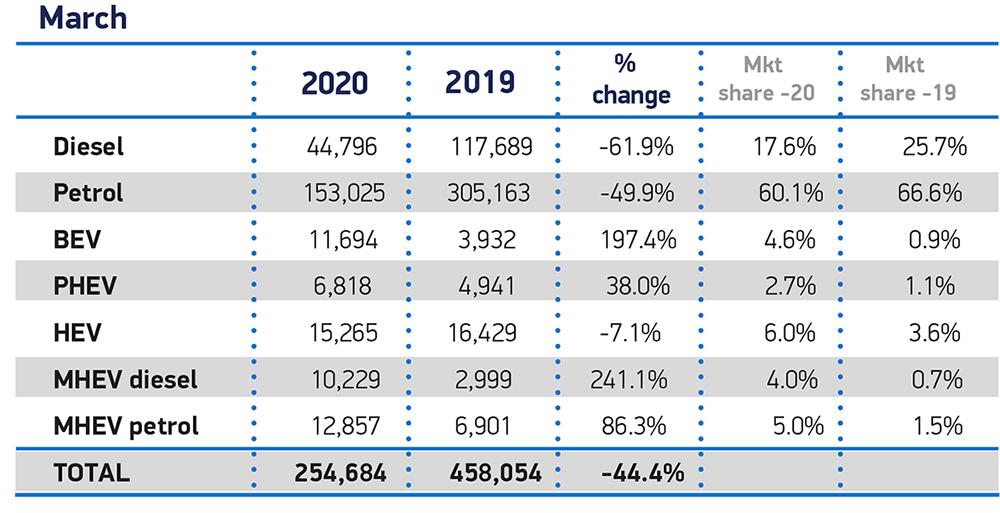 Dealers had reported social distancing measures making it hard to sell cars even before the lockdown began on March 23, sending the economy into freefall and causing consumers to rethink major outlays.
Also consumers are still scared of diesels with sales down 62% Y on Y.
The only bright spot in the SMMT list is the pure electric and plug in hybrids with sales increase on 200% and 40% respectively. Together these segments shifted 18,500 units in the month. 
Pure-EVs reached their highest ever total, with almost 11,700 registered during the month. The previous record was a little over 7,700, in September 2019.
Plug in Hybrid EVs also set a new record for units registered, though somewhat closer than EV figures. March 2020 saw just over 6,800 sold, whilst the previous record in March 2018 was almost 6,400.
As might be expected with such a large increase on EV units registered, market share for pure-electric models hit a new record too. March 2020's figure saw 7.3% of all new models registered as plug-in models, and pure-electric market share was 4.6%. Put into perspective, the previous records were 6.3% (Dec 19) and 3.4% (Aug 19) respectively.
March is normally the biggest month for sales as buyers are attracted by the launch of a new registration plate number. Without the plate change the decline would have been even steeper, as many consumers agree deals further in advance than normal. The SMMT data shows it was the worst March in more than 20 years for registrations of new cars, a proxy for sales.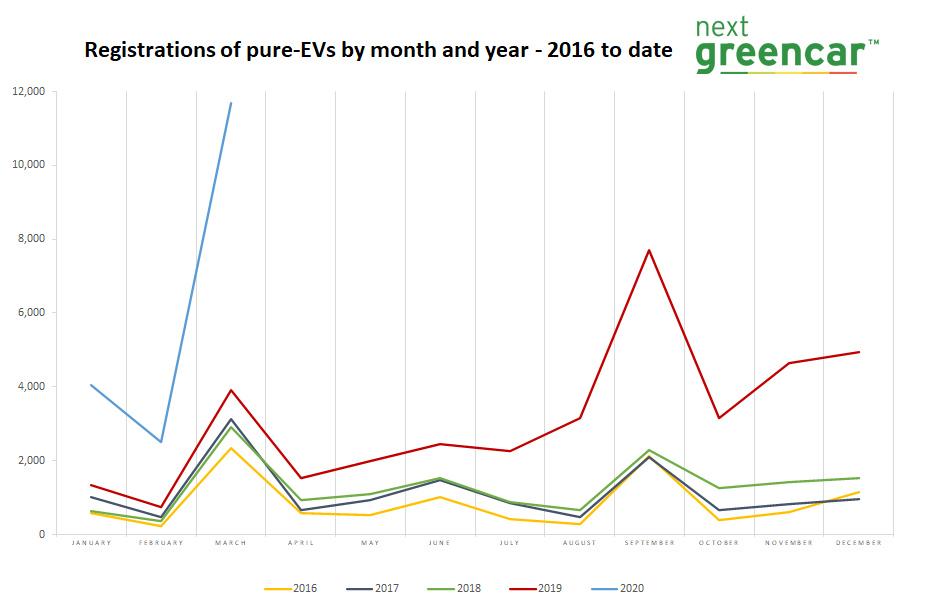 These large increases over February 2020 are expected to a degree, since March is a new-registration month, and the month prior to a new plate being launched is traditionally quiet as buyers wait. However, March 2020 has been stronger than many would have predicted.
Tesla 3 tops best sellers at #9
Although unclear, March looks as though an EV has made the top 10 monthly sales charts, for only the second time. Listed ninth, under 'Other' a little over 4,700 units were registered. This is likely to be Tesla's Model 3, since the manufacturer is not currently a member of the SMMT.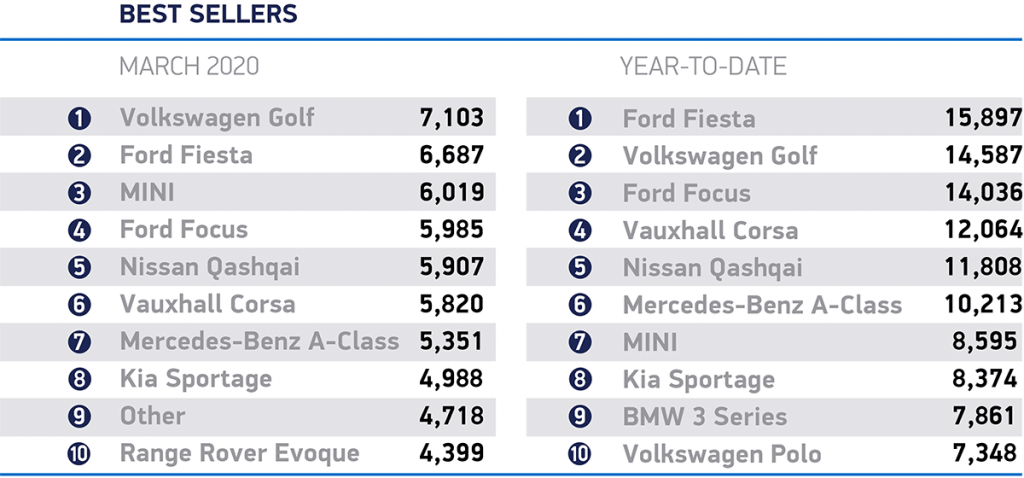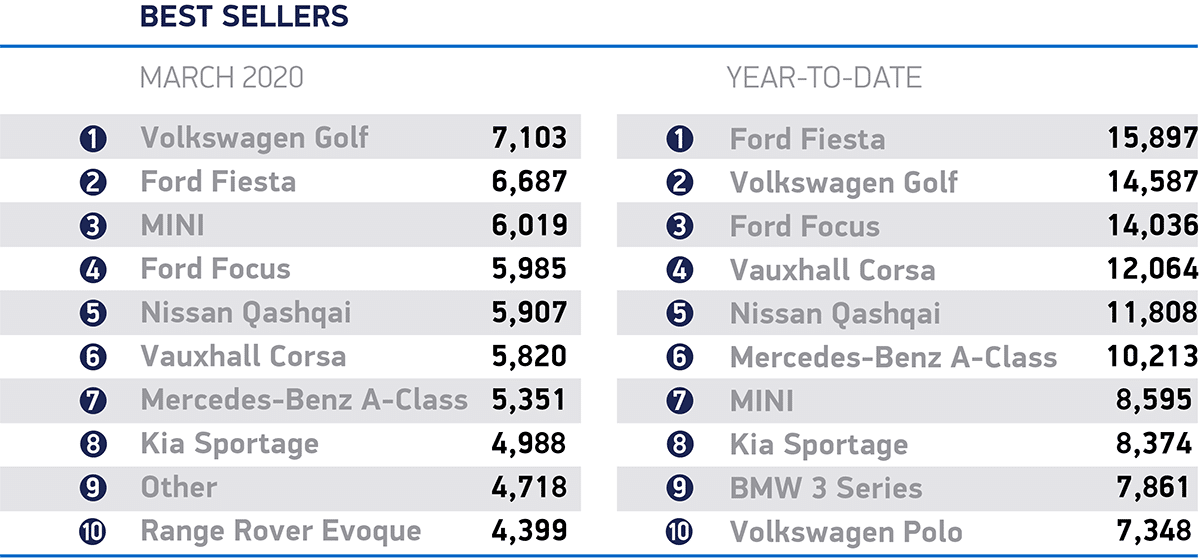 Data from SMMT, Zap Map and Green Car