BMW i3 goes on sale in UK during November for £25,680, or £369 per month to lease
Hot on the heels of the recent Park Lane launch party, BMW has confirmed that its new i3 electric car will cost from £25,680, including the £5,000 contribution from the generous UK government. First deliveries of the all-electric i3 will begin in November, with BMW yet to confirm the price of the range-extender model.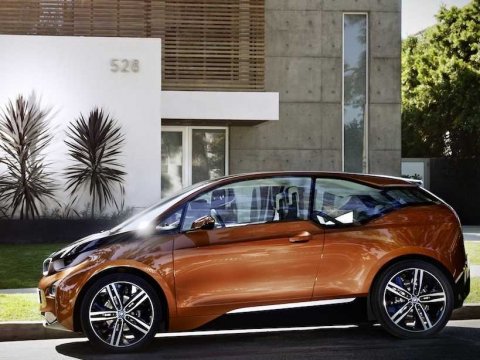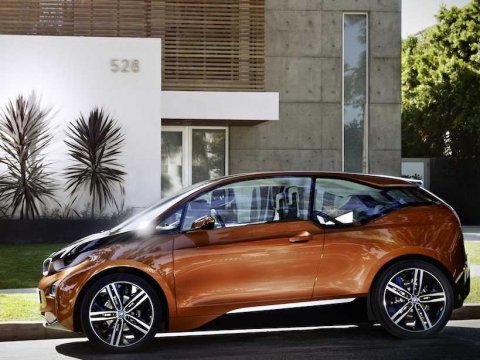 At this price BMW are introducing battery-powered i3 city car at a lower-than-expected base price to stoke demand for its first electric vehicle as the luxury auto maker aims to keep rivals Audi and Mercedes at bay.
For buyers who wish to lease their i3, BMW has set the cost at £369 per month over 36 months. That's subject to a deposit of £2,995 and a limit of 24,000 miles.
BMW i3s will be sold using what BMW calls a multi-channel sales model. That means you can buy one from one of its authorised BMW i partners, a dealer or off the BMW i website.
BMW has also added unsurprisingly that customers will be able to customise their i3 deal to suit their needs.
This will include the option to install the BMW i wallbox in the customer's home. Costing from around £1,200, the wallbox allows the car to be charged from zero to 80 per cent in three hours. A charge from a regular three-pin plug takes between eight and 10 hours
Of course both times depend on how depleted the battery pack is at the time of charging.
Buyers will also be able to add the loan of different BMW products for longer journeys, including using a chunky X5 if they need more space, or a sporty Z4 if they fancy something racy for the weekend.
The i3 will be officially unveiled in production trim on July 29. The launch will be done jointly in New York, Beijing and London.
The car will also be shown at the Frankfurt Motor Show, alongside the production version of the BMW i8 hybrid supercar.
The world's biggest luxury car maker has not given a sales target for the i3, although Robertson has said it aims to be "a significant player" in the market for electric vehicles which he has pegged at about 150,000 cars worldwide in 2012.
"The price is very competitive," Frankfurt-based Commerzbank analyst Sascha Gommel said, citing an anticipated range of 37,000-40,000 euros. "It seems realistic that BMW could grab a decent share of the electric-car market" with the i3.
BMW created a separate "i" sub-brand to market electric vehicles and is counting on the i3 and the i8 plug-in hybrid sports car, due to hit dealerships early next year, to give it an edge in innovation, a key attribute for premium auto manufacturers.
BMW group, which also includes Mini and Rolls-Royce cars, is stepping up investment on new vehicles and technologies as German rivals Audi and Mercedes seek to snatch the luxury-sales crown by the end of the decade.
Volkswagen-owned Audi, which eclipsed Mercedes as the world's No. 2 premium-auto maker in 2011, narrowed the gap to BMW to no more than 24,000 cars after six months from 85,000 at the end of 2012.
Both of BMW's electric cars use carbon fiber and reinforced plastics on a lightweight aluminium chassis and parts, to trim weight and battery costs. The i3 will also offer a range extender permitting the car to drive over 300 kilometres, more than double the normal distance on battery alone.