Not content with the Boris Bike, London continues to experiment with clean transportation and now has five Electric Double Decker Busses in operation.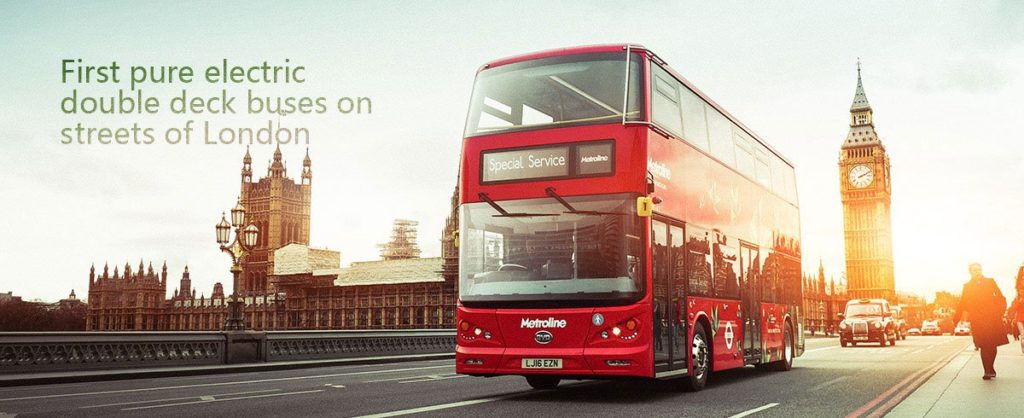 Transport for London (TfL) has been experimenting with several kinds of battery-electric and fuel cell buses since 2013.
Now it has introduced an electric version of the capital's iconic double-decker bus into revenue service. TfL is putting five BYD electric double decker buses into service on Route 98 in central London. That's Pound Land to Willesden via Oxford St.
The 81-passenger buses were designed by BYD to TfL's specifications. They are equipped with BYD's Iron-Phosphate Battery packs, which deliver 345 kWh of power. The batteries can power the bus for 24 hours and up to 190 miles of typical urban driving with a four-hour daily recharging session.
BYD will install fast charging equipment at the Willesden Bus Garage in north London, and will provide driver training.
"TfL challenged us to develop a clean, all-electric bus that would meet their service requirements, and we've done just that," said BYD Europe spokesperson Isbrand Ho. "I hope other transport agencies take note of TfL's leadership and see that there are no barriers to deploying all-electric buses into service in today's market."
"The running costs are much lower and some of the maintenance and operations costs are much lower on the buses," said London's Deputy Mayor of Environment and Energy Matthew Pencharz. "Also, they are zero-emission, zero-tailpipe-pollution and that is a huge benefit for Londoners."
BYD a Chinese manufacturer of automobiles and rechargeable batteries with its corporate headquarters in Shenzhen. It also has one of the slowest loading websites in the world. Give it time to load a bunch of his res images.
A fascinating company involved in many aspects of Electric Transportation.