London: Aug 9 2013
Last week BMW invited us and a few close friends to witness the UK and simultaneous worldwide launch of the BMW i3 electric car.
This was a smooth operation typical of BMW corporate events. The location was in the old Billingsgate Fish Market City on Lower Thames Street with fine views of Tower Bridge and the Shard.
The car was on stage under wraps and introduced by Chris Brownridge, Marketing Director BMW UK Limited who was joined on stage after the car was revealed to the waiting hordes who had by now been well lubricated by the bar by Robert Llewwllyn, an EV activist and actor.  Robert hosted a Q&A session and then invited the crowds to come and kick the tires. The audience was super receptive and lined up in a surprisingly ordered way to climb in and over the i3.
The car was given a huge marketing budget to play with. The end result so BMW claim is the results of 20 years of work and a couple of billion Euros. We were reminded that they showed an Electric vehicle at the Munich Olympics back in the 70's. Since then a lot has changed. One are that was pushed was that this represents a pure electric car design and not a retrofit to an existing model. The benefits of this are substantial. The frame, body and running gear are designed for an electric car and have been designed with low weight in mind. The body is a mix of carbon and plastics with an aluminium chassis. Power comes from a lithium-ion battery pack.  The i3 is powered by a 22-kilowatt-hour lithium-ion battery pack built into its floorpan that weighs in at close to 200 Kg.  The pack powers a 125-kilowatt (170-horsepower) electric motor, mounted under the high rear load deck, that produces 184 lb-ft of torque.
The car looks different with the doors having no B pillar between them. The i3's bodyshell, made out of carbon-fiber-reinforced plastic (CFRP)–a first for any volume-production passenger car–is strong enough that BMW was able to dispense altogether with a central pillar, making access to the rear seat easier as the rear doors are hinged at the back. The front doors must be opened first to allow them to be opened, for safety.
The waistline also looks different from most other cars and drops substantially after the front doors, giving increased visibility for rear seat passengers. The read cargo space has a sort of fluid tube look as the glass is shaped into smaller space. In some ways this echoes the rear of the Range Rover Evoque.
BMW were at length to mention that they learnt and listened to earlier EV trials and tests with the Mini E and others. They claim that they have worked hard to solve the perceived problems with the electric car. A home charging station is available. Called 360 Electric, BMW will provide a one stop shop to install a high-powered home charger. You make 1 call and pay a fixed price, BMW work out the logistics with the local power company. Once installed you can receive a full change in 3 hours. They have address the often asked question, how do I drive to Paris, Aberdeen or any other unlikely destination that is far further that the range? Well BMW will offer a loan car from their ICE range as an alternative. Fancy a sporting w/e take the Z3. Want to go skiing take the 535 Estate. Details and costs to be announced but it does neatly remove that anxiety help be many people.
Back to the look and design of the car. One area that is spot on is that the floor is flat. There is no hint of a transmission tunnel. You can very easily slide from side to side, handy for tight parking spaces.
In size the i3 is about the same footprint as the 1 Series but offers the interior of a 3 Series. It does feel light and airy once in the cockpit.
The BMW i3 cars shown in the carmaker's images all come with their short front hoods painted glossy black, another design element that sets off the BMW i range of electric cars from their petrol and diesel brothers and sisters.
And the twin-kidney grille, while outlined in blue, actually contains not access for cooling air but simple glossy black blanking plates to reduce aerodynamic drag.
The 19-inch wheels are tall, but very thin, using specially developed 155/70 low-rolling-resistance tires. Buyers can also select optional 20-inch alloy wheels, with similarly tall tires.
While they have the contact patch of a conventional 16-inch tire, their narrowness is one element that permits the i3 to have a very tight 32.3-foot turning circle.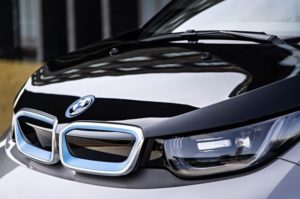 Option and trim
Three trims are available Mega, Giga, Tera. The standard Mega trim level includes 19-inch forged aluminium wheels, a 7.4-kilowatt onboard charger, navigation, the BMW Connected Drive infotainment system, and full LED headlights, daytime running lights, and taillights.
The Giga level adds leather and wool trim, a sunroof, different 19-inch alloy wheels, satellite radio, and an integrated garage-door opener.
And the top-level Tera trim adds to that a different set of 19-inch alloy wheels, a full leather interior using olive tanning processes, textile accents, contrasting stitching, and floor mats in "anthracite"–presumably the colour, not the coal.
About 25 percent of the plastics used inside the car are recycled, BMW notes, and the eucalyptus wood veneers used on high-end trim levels are "responsibly harvested."
The door trims and instrument-panel surround also use fibers from the kenaf plant, an increasingly popular sustainable element in-car interiors these days.
Battery, range extender
BMW claim the i3 will drive you about 80 -100 miles before you need a charge. They will also offer an optional Range Extender: A rear-mounted 34-HP, 650cc twin-cylinder petrol engine that will act solely as a generator. Unlike the Ampera or Volt this is not connected to the drive train, it is purely to charge the pack. With a 2.4 galon petrol tank, this effectively boosts the range by 100%.
Price
The base i3 has a list price of £25,000 before tax, VAT and any subsidies that may be available depending on your location. The UK provides a £5,000 EV subsidity. Add in tax take away the subsidity and you are close to £25K on the road. That's not bad for a state of the art all-electric BMW i3.
Leasing pricing and options will also be available to provide a per monthly fee.
Available in November.
Full review and comparison to Tesla to follow.