Audi joins the plug in bandwagon with the latest A3 variant the A3 E-tron.
Audi have shown a number of e-tron concepts and now seem fixed on bringing the A3 plug-in version to life with models expected in the UK in summer 2014.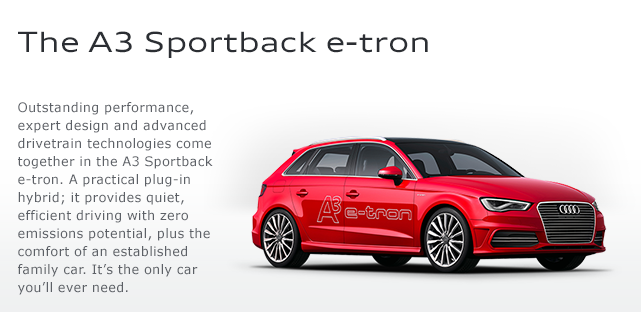 The Audi A3 e-tron is a plug-in petrol hybrid version of the A3 Sportback. It's powered by a 148bhp 1.4 litre TSI engine and a 99bhp electric motor sandwiched between the gearbox and power unit to drive the front wheels. The motor also doubles as the engine's starter.
A six-speed DSG gearbox harnesses the power, its wide ratio spread enabling the electric motor to operate through a narrower, 0-2000rpm rev range that allows for a more efficient design. The adapted DSG transmission includes an additional clutch that decouples the motors to allow coasting, which is a more efficient use of kinetic energy than recuperation.
The e-tron's 8.8kWh, 125kg battery lives under the rear seat, while the repositioned fuel tank sits beneath a slightly raised boot floor. Despite the tank's proximity to the A3's back end this car can absorb a 50mph rear impact without the plastic tank rupturing. At the other end of this A3 e-tron, neatly hidden behind the four rings of its grille, is the power socket for the charging cable.
Despite its low emission, fuel-saving hardware the e-tron can be considered as both fuel-saver and lightly sporting performance car. It has the scope to achieve a spectacular 188.3mpg – one tester has even managed 235mpg – besides sprinting to 62mph in 7.6sec and topping 138mph. It will also travel at up to 80mph on electric power alone, although its 31-mile range will obviously be compromised by high EV speeds like these.
Those 31 miles are enough to allow most commuting trips to be completed without resort to the petrol engine; this practice encouraged by the automatic defaulting to EV mode on start-up. The petrol engine can instantly be engaged via the kickdown button however, or by using a centre console-mounted rocker switch to toggle to hybrid operation. Because kickdown can demand maximum effort from a cold engine, Audi has reworked this TFSI's piston rings and liners for wear-protection, and included a sensor to measure oil quality.
The DSG transmission provides the same features as you get in a conventional car, including a manual paddle-shift mode, a creep function and kickdown, your chosen gear indicated in the instrument pack. As is the car's range, a yellow and green bar graph indicating its distance potential with petrol and electric power. You can also select an energy flow read-out, and the infotainment display provides a box-out highlighting your chosen mode.
Otherwise, the interior looks standard, although an electric heater and air conditioner lie behind the familiar controls on the dashboard. The A3's exterior appears similar too, there being no additional aerodynamic aids, although it does have low-rolling resistance tyres.
What is it like?
As quiet as any other electric car on take-off, the e-tron's easy silence provides relaxed, and swift urban progress. That said, your advance isn't always as smooth as it should be because there's sometimes a solid thump as drive takes up.
"You can be sure that Dr Hackenberg won't allow that," Audi A3 programme manager Alex Pesch wrily says of his boss, this pre-production e-tron not quite the finished article. Nor do you quite enjoy the rangey, seamless power surge that a single-gear pure electric delivers either.
But, however, the familiar sensation of power being parcelled through a multi-speed transmission is a small price to pay for the undoubted efficiency advantage of having an electric motor geared through six forward speeds, as it is in the Volvo V60 diesel plug-in hybrid.
The general integration of petrol engine, transmission and electric motor is otherwise excellent. There are no jolts when the drivetrain is combining or switching between motors, and the 1.4 TFSI has a subtly pleasing rort about it when it's worked hard. Not inappropriately either, because adding a battery pack, shifting the fuel tank to the rear and installing a particularly light engine means that this A3's 55:45 front rear weight distribution improves on the diesel's 60:40 apportioning, to the noticeable benefit of its handling.
The e-tron turns out to be the best-balanced, sweetest-handling A3 in the range, which makes for a pretty satisfying steer. It rides well too, although there's still some damper calibration work to be carried out. Hopefully that won't firm things up significantly.
Recharge times vary depending on your power source of course, but you're looking at 3hrs and 45mins using a 230 volt 10 amp supply, which reduces to 2hrs 15mins with 16 amp power. Either way, an overnight charge, which you can time via switches beside the Audi's socket, is more than enough.
Should I buy one?
Audi's A3 e-tron is a fascinating car that has the potential to be very cheap to run, especially given its ultra-low, tax-dodging emissions. It also offers entertainingly strong performance and well-balanced handling to go with it.
The e-tron's fuel and money-saving potential are best realised if your daily slog to work falls within its 31-mile electric range, in which case the cost of your commute will tumble significantly. And because this is a hybrid, you have the convenience of a 550-mile range using both on-board energy supplies.
True, this e-tron looks likely to cost a good £9000 more than an A3 2.0 TDI Sport when it arrives in summer 2014, but it's a lot more entertaining and will cost you even less to feed.
Audi A3 e-tron: the full lowdown
Audi UK's number-crunchers have been trying to calculate the market's size, to estimate potential demand and help shape the A3 e-tron's spec. 'Audi's plug-in hybrids must be no compromise cars,' says our source. That translates to a 30-mile electric-only range, CO2 emissions below 76g/km to unlock tax breaks, and a back-up petrol engine to ensure owners aren't left stranded.
The A3 e-tron's lithium-ion batteries can be recharged from a socket, unlike the full hybrid A6 and A8 models already on sale. Audi showed a concept A3 e-tron back in 2011, which coupled a 1.4-litre TFSI turbo engine with a 27kW electric motor.  Working in parallel, the engine and motor can blast the A3 to 62mph in 6.8sec, though tickle the car around town and a 34-mile pure electric range is promised.
In 2012, UK punters bought just 2226 pure electric cars (like the Nissan Leaf) and uprated hybrids: range-extenders like the Vauxhall Ampera/Chevy Volt, and the plug-in Toyota Prius, whose 15-mile range is half that Audi promises. So, how big will the equivalent market be at the end of 2015? 'If you accurately knew the answer to that, we'd pay you a lot of money to tell us,' says our source, only half-jokingly. The market will certainly have grown, as more models – Renault's electric Zoe, and BMW's i3 EV and range extender hatch – pile into the segment.
R8 e-tron supercar is axed
A burgeoning recharging network and consistent government incentives will be crucial to nurturing the market. The £5000 rebate for ultra-low emissions cars is only guaranteed until 2015, the life of the current UK parliament. Benefit-in-kind tax still applies to drivers of the Prius plug-in (49g/km of CO2) or Ampera (27g/km), calculated on 5% of the cars's £33-35k prices. The A3 e-tron is on course to qualify for the same rate of company car tax and London congestion charge exemption – unless politicians change the rules.
While Audi's eco branding was introduced with the R8 e-tron in 2009, this pure electric halo car has been cancelled, having missed Audi's 'late 2012' timetable for sales. With its lithium-ion battery pack and quad electric motors delivering 3319lb ft of torque, the R8 e-tron lapped the legendary Nürburgring Nordschleife in 8:09 minutes – just 58 seconds slower than the Gumpert Apollo's production car record. However, the R8 e-tron's projected high cost, limited range and the lack of demand for a silent supercar means the project has been shelved.
Price £32,700 est; 0-62mph 7.6sec; Top speed 138mph; Economy 188.3mpg; CO2 35g/km; Kerb weight 1574kg; Engine 4cyls, 1395cc, turbocharged petrol, plus synchronous electric motor; Installation transverse, front; Power 1.4 TFSI 148bhp at 5000rpm, electric motor 99bhp, 201bhp combined; Torque 1.4 TFSI 184lb ft 1750-4000rpm, electric motor 243lb ft 0-2000rpm, 258lb ft combined; Gearbox 6-spd dual-clutch automatic.
Reporting from Car Magazine and AutoCar.