At last we get a chance to drive the first plug-in hybrid from Audi, the now available A3 sportback e-tron.
This is a very interesting car that is exceedingly well executed by Audi. It joins the ranks of Plug In petrol cars with a hybrid drive train incorporating the standard components of a 1.4 petrol A3 with an electric power train consisting of 75 kW motor and 8.8 kWh lithium-ion battery pack and charger. The pack is large enough to drive 31 miles in pure EV mode. This makes it totally useful as a short-range EV. Has the smart dash that shows charge state and power flow as all hybrids tend to do. Combines sporty seats with quality and refinement.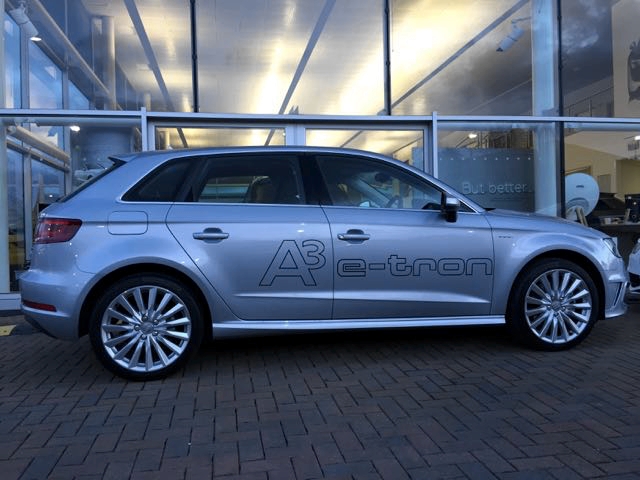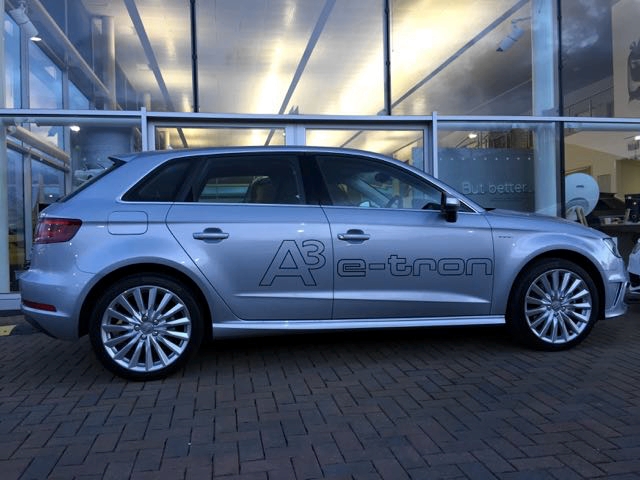 The Audi A3 offers the usual driving modes: Full Electric, Auto, Petrol and Charge. Auto switches between pure EV and the petrol engine and the transition is so smooth you would be hard tested to know the switch. In this mode the car will charge the battery pack automatically. In Petrol only mode the battery charge will be conserved, allow g a drive to reserve the EV mode for a journeys destination such as London. Just why you would need to micro manage the pack is unknown.
In the EC efficiency test Audi claim an impressive 176 mpg. These tests are virtually meaningless. You could do 176 miles in pure EV mode over 6 days and use no petrol, assuming you re-charged at home or work. Or you could blast down the A3 in an A3 e-tron in Petrol mode and expect a more realistic 40 MPG. Your data will vary considerably depending on your style and charging ability.
The car does drive rather nicely and is reasonable well equipped. For a £30,000 car of course it should be full of goodies. This includes the Audi DSG 6 speed auto gear box with steering wheel shifters and smart gear level. You should leave the car in auto at all times, it drives just fine as is. Performance is reasonable with 60 in around 7.5 seconds. That's fast enough for day-to-day driving. Top end is a claimed 137 mph.



The performance is always a compromise between power and weight. The e-tron adds 125 kg of mass, bringing curb weight to 1,540 kg. This extra weight has little impact on the standard A3 ride.
It will be interesting to compare this with the new VW Plug in Golf. Both car share most of the components, just the Audi is a tad flasher and more expensive.
With a 30 mile EV range this makes the cute A3 a much better bet than the Toyota Prius plug-in that only offers about 10 miles in EV mode, hardly worth it.
The BMW i3 is a closer competitor especially at the £30 K price point.
THE FACTS
Audi A3 e-tron
Tested: 1,395cc turbocharged four-cylinder petrol engine, plus 75kW electric motor powered by 8.8kWh lithium-ion battery, six-speed dual-clutch transmission, front-wheel drive
Price/on sale: £29,950 (including the £5,000 Government plug-in car grant)/now
Power/torque: total system output 201bhp/258lb ft
Top speed: 138mph
Acceleration: 0-62mph in 7.6sec
Fuel economy: 178.8mpg (EU Combined)
CO2 emissions: 37g/km
VED band: A (£0)
Electric range: Up to 31 miles
Verdict: Easy to live with, classy and capable of slashing your day-to-day motoring costs for short-range journey. – A Plug-In hybrid worth the hype, particularly for business users.
We drove the car care of Audi Guildford.