From Automotive news: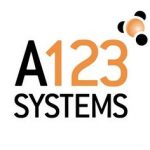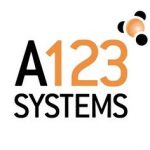 Lithium-ion battery maker A123 Systems Inc. filed for Chapter 11 bankruptcy protection today in U.S. Bankruptcy Court in Delaware and said Johnson Controls Inc. has agreed to acquire its automotive battery business.
To facilitate the purchase, JCI is providing A123 $72.5 million in post-bankruptcy financing to continue operations through the court process, the companies said in a statement. The total transaction price is $125 million, the statement said.
A123 said an earlier deal to sell an 80 percent stake in the company to China's Wanxiang Group had fallen through.
The JCI deal includes A123's two battery plants in suburban Detroit. The company employs 700 people in Michigan. Johnson Controls already operates a lithium-ion plant in Holland, Mich.
JCI also will also acquire A123's cathode powder plant in China and its stake in Shanghai Advanced Traction Battery Systems Co., a joint venture with Shanghai Automotive.
In the Chapter 11 filing, A123 said it owes millions to hundreds of debtors, including the Michigan cities of Livonia, Novi and Romulus. A123 holds $376 million in debt with about $459.8 million in assets. Its largest debtor is U.S. Bank, which A123 owes $142.8 million.
"We believe the asset purchase agreement with Johnson Controls, coupled with a Chapter 11 filing, is in the best interests of A123 and its stakeholders at this time," A123 CEO David Vieau said in the statement.
"As we move through this transaction process, we expect to continue operating and working with customers and suppliers," he added.
JCI's vision
Johnson Controls' interest in A123 Systems dovetails with the company's "commitment to the development of the advanced battery industry," Alex Molinaroli, president of the company's power solutions unit, said in the statement.
"Requirements for more energy efficient vehicles continue to increase, which is driving automotive manufacturers to pursue new technologies across a broad spectrum of powertrains and associated energy storage solutions," the statement said. "We believe that A123's automotive capabilities are a good complement to our existing portfolio and will further advance Johnson Controls' position as a market leader in this industry."
Rich Kwas, an automotive analyst for Wells Fargo Securities, said the deal makes sense for JCI because it "will broaden the company's lithium-ion technology offering and enhances its scale."
"Longer-term, the transaction should further solidify JCI's position in advanced batteries," Kwas wrote in a statement today. "According to A123's investor presentation, the company has 22 transportation programs that were sourced for production or in production spread across both commercial and light vehicle OEMs."
A123's filing comes one day after the Waltham, Mass.-based company filed a document with U.S. Securities and Exchange Commission stating that it would default today on payment for $143.8 million of notes that expire in 2016.
"The company may not have sufficient cash to fund operations and may need to seek the protections provided under the U.S. Bankruptcy Code," A123 said in the filing. "No assurance can be given that the company will be able to avoid restructuring, reorganization, or a bankruptcy filing."
A123 received a $249.1 million federal grant in 2009 to build its Livonia plant, but has struggled since, posting 14 straight quarterly losses.
Wanxiang deal fails
In August, A123 announced a deal with China-based Wanxiang Group Corp. that would provide A123 $465 million in financing for an 80 percent stake. But the deal required approval from the U.S. and Chinese governments — which had not happened.
"We determined not to move forward with the previously announced Wanxiang agreement as a result of unanticipated and significant challenges to its completion," Vieau said in the statement.
A123 reported a second-quarter loss of $83 million. In July, A123 said it had only five months of cash remaining.
Battery troubles
A123's troubles in part stem from the failure of its lithium-ion batteries — a Fisker Karma plug-in hybrid fitted with an A123 battery failed during an April test by Consumer Reports. Replacing the defective batteries is expected to cost A123 $66.8 million, including a $15 million inventory charge. The announcement devastated A123's stock price, which as of Monday had fallen 85 percent this year.
The problem was linked to incorrect calibration of an automated welding machine in Livonia. The flaw could cause an electrical short, leading to battery failure, the company said.
The bankruptcy filing may fuel further political debate over government financing of alternative-energy and transportation businesses. Federal grants and loans to companies including A123, Fisker and Tesla Motors Inc. have drawn scrutiny from congressional Republicans following the September 2011 bankruptcy filing of solar-panel maker Solyndra LLC two years after it received a $535 million loan guarantee from the U.S. Energy Department.
President Barack Obama called A123 CEO David Vieau and then-Michigan Gov. Jennifer Granholm during a September 2010 event celebrating the opening of the plant in Livonia, west of Detroit, that the company received the U.S. grant to help build.
Obama's call
"This is about the birth of an entire new industry in America — an industry that's going to be central to the next generation of cars," Obama said in the phone call, according to a transcript provided by the White House. "When folks lift up their hoods on the cars of the future, I want them to see engines and batteries that are stamped: Made in America."
US Electric-vehicle sales since 2011 totaled fewer than 50,000 through September, just 5 percent of Obama's target to have 1 million such vehicles on U.S. roads by 2015.
Read more: http://www.autonews.com/article/20121016/OEM10/121019885#ixzz29TZH6kUE