European sales of electric vehicles grew last year by 50% to nearly 100,000 units.  One of the key benefactress of this sales growth was Renault, whose Zoe was the best selling electric car in Europe during 2015.
As well as the Zoe, Renault offers the Kangoo ZE small delivery van, and the crazy but interesting Twizy tandem two-seater low-speed electric vehicle.
With this lineup of electric cars already know secured nearly one-quarter of all electric car sales in Europe: Its 23,086 sales of Zoe and Kangoo ZE electric vehicles represented 23.6 percent of sales.
The bulk of those sales were the Zoe, at 18,453 registrations or 19.2 percent of the market. Most of the remainder were the light-commercial Kangoo ZE electric van, at 4,325 sold. That makes each car the leader in its segment.

The Zoe racked up more sales than the larger Nissan Leaf, which is assembled in the U.K., and the Kangoo ZE dominated the all-electric light commercial vehicle segment, at 42.6 percent of sales.
Unsurprisingly he largest market for the Renault Zoe is its home country of France–10,670 sales, or 48 percent of battery-electric sales–due to a national "Superbonus" incentive introduced last year to encourage sales of zero-emission vehicles.
More than half the Zoes sold during 2015, Renault says, benefited from that incentive.
From their launch in 2011 through December 2015, Renault says, it has sold 62,228 electric cars plus another 16,331 Twizy low-speed vehicles.
Renault and sister company Nissan announced in June 2015 that the two companies combined had sold more than a quarter of a million battery-electric vehicles. That followed a November 2014 combined total of 200,000.
But while the Zoe does well in France and parts of Europe, its global sales are about one-quarter the number of the Nissan Leaf's sold throughout the world with strong showings in Japan and United States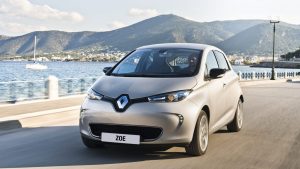 Nisan expect the 200,000th Leaf to be sold sometime this month.