The new Hyundai IONIQ Plug-in Hybrid goes on sale this month, priced from £25,000, including the £2500 Plug In Car Grant. The Plug in joins the all Electric Version and the petrol model.
The Plug-in Hybrid is the third and final variant of the IONIQ line-up – the first car in the world to offer three electrified powertrains within one body type.
IONIQ Plug-in Hybrid offers up to 39 miles of pure electric driving with a total range of 680 miles.  It combines a 105 PS 1.6-litre Atkinson cycle petrol engine and a 61 PS high-efficiency electric motor, driven through a six-speed dual-clutch transmission. The combined system output is 141 PS. Ultra-low CO2 emissions of just 26g/km means it attracts zero-rate VED in the first year and offers a low BIK rate of just 9% for 2017/18.
The new model is available in Premium and Premium SE specification. The former offers a high level of standard equipment, including: 16" alloy wheels, Bluetooth, Apple Car Play and Android Auto, Smart Cruise Control and an 8-inch integrated satellite navigation unit. Unique to the IONIQ Plug-in Hybrid variant, the navigation system features state-of-the-art ECO-DAS technology. ECO-DAS has predictive energy management that optimises the battery charge and discharge, as well as a coasting guide for the driver, instructing them when to lift off the throttle to use less fuel.
Further highlights of Premium specification include: heated front seats and steering wheel, LED headlights and rear combination lamps, wireless smart phone charging, and a Rear Parking Assist System with Rear View Camera. Standard safety features include Autonomous Emergency Braking (AEB), Lane Keep Assist System (LKAS) and individual Tyre Pressure Monitoring System (TPMS).
For drivers seeking even greater comfort and convenience, IONIQ Plug-in Hybrid Premium SE trim starts from £26,795 including grant. The step up adds leather seat facings, front seat ventilation, rear seat heating and an electrically adjustable driver's seat with memory function. Premium SE also includes alloy pedals, rain-sensing wipers, Blind Spot Detection and Front Park Assist.
The IONIQ Plug-in Hybrid is available in Polar White as standard, or with a choice of six metallic colours; Phantom Black, Platinum Silver, Iron Grey, Demitasse Brown, Marina Blue and Phoenix Orange. The lava stone interior trim features blue accents throughout the cabin and control surfaces.
Hyundai Motor UK previously named POD Point as its preferred charging partner, and a 7kW wall box can be supplied and installed at the customer's home for £300, which includes standard installation. The Plug-In Hybrid is available as standard with the Type 2 connector and an ICCB Charging Cable which allows the car to be plugged in to a domestic three-pin outlet when no dedicated charging points are available.
IONIQ Plug-in Hybrid will be available from a dedicated Hyundai network of 70 dealers from 13 July. All IONIQ models come with Hyundai's industry-leading 5 Year Unlimited Mileage Warranty package, with the additional high voltage battery cover of 8 years / 125,000 miles.
"This is an exciting addition to our electrified line-up," comments Tony Whitehorn, President and CEO Hyundai Motor UK. "With up to 39 miles of electric-only power there is more than sufficient range for zero-emission daily commutes, as well as the reassurance of longer range from the hybrid powertrain when needed. We anticipate keen interest from private buyers and fleet users alike, given the Plug-in Hybrid's great value pricing and low tax rates.

"With CO2 emissions of just 26g/km, IONIQ Plug-in Hybrid is another milestone in extending the company's product range of low-to-zero emission vehicles, which is central to our sustainability strategy," he concludes.
We look forward to driving a sample. Should be with dealers from July 13th.
Learn more hyundai.co.uk/new-cars/ioniq/electric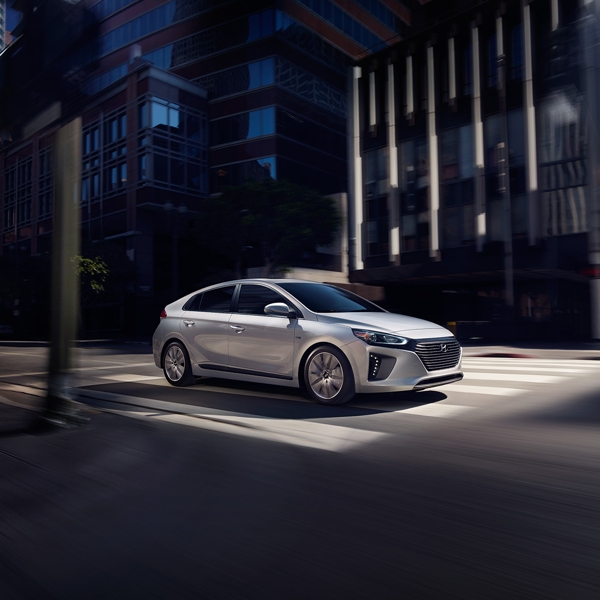 Hyundai Motor and affiliate Kia Motors plan to launch a small all-electric SUV.
South Korea's Hyundai Motors is developing its first dedicated architecture for electric vehicles,  seeking to catch up with the likes of Tesla in the growing segment with multiple, long-range models.
The separate platform represents a major push into the battery electric-car segment for a firm which has long trumpeted rival fuel-cell vehicles, reflecting strong investor pressure to compete more vigorously in a market that has been stimulated by Tesla's longer-range model S and model X vehicles.
Industry executives also say tough fuel-economy and emissions regulations in the United States, Europe and China are compelling automakers to push fuel-efficient cars even though low oil prices have undercut demand.
Hyundai's electric-car platform would allow the automaker to install a battery pack in vehicle floors to accommodate more battery capacity and maximize cabin space, Lee said.
"The electric-vehicle platform will require high up-front investments but we are doing this to prepare for the future," he said at Hyundai-Kia's green car research center in the city of Yongin, outside Seoul. He did not reveal the cost.
Lee, a senior vice-president at Hyundai Motor, was speaking during an interview on the eve of an auto show that kicked off in Seoul in early April.
Ko Tae-bong, an analyst at Hi Investment & Securities said Hyundai had no choice but to join the likes of Tesla, General Motors, BMW and Mercedes-Benz in building separate electric-vehicle platforms to be relevant in the segment.
"The separate platform may incur losses initially, but Hyundai will be left behind the market if they don't offer long-distance models, like 300 km, 500 km and 600 km,"
Hyundai Motor said in a statement that it plans to launch a new luxury electric vehicle under its Genesis marque in 2021, after introducing a plug-in hybrid version of an unidentified Genesis model in 2019.
CAUTIOUS OUTLOOK
Hyundai will launch an electric SUV, followed by a sibling model by Kia Motors next year, Lee said, citing strong demand for SUVs.
The subcompact or compact models would have a range of more than 300 km (186 miles) per charge, and would be "more competitive" than rival offerings, Lee said.
Hyundai Motor's IONIQ hybrid sedan fell short of its sales target, while Kia's Niro hybrid SUV exceeded its forecast last year.
Lee expected electric vehicles to account for about 10 percent of total global vehicle sales by 2025, from some 1 percent now, with China leading the way. Fuel-cell cars, by comparison, were unlikely to take off until 2025 but had long-term potential.
In China, Hyundai Motor was considering sourcing batteries from Contemporary Amperex Technology Ltd or a couple of other Chinese firms, because of subsidy restrictions on South Korean batteries, he said.
As part of efforts to meet Chinese electric car quotas, Hyundai and Kia planned to introduce electric versions of its China-exclusive sedans and SUVs, while readying electrified models under local brands made with Chinese joint venture partners, he said.