This is neat. A report from Momentum Dynamics claiming it will bring high speed wireless 200KW charging to the bus market this year.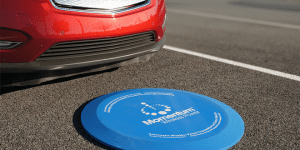 According to CEO Andrew Daga, the company delivered 25 kW and 50 kW systems to partners in the automotive industry in 2015, and is planning to deliver two wireless systems to municipal agencies in Maryland and Washington this year.
Utah-based competitor WAVE has wireless systems up and running at 50 kW. By comparison, some Tesla Superchargers operate up to 135 kW via a cable.
Momentum Dynamics' system includes a transmitter on the ground and a power receiver mounted to the underside of the vehicle. It can support an air gap of up to 12 inches.
"These high power levels are causing a lot of excitement, especially with municipal bus transit agencies where high power is required to keep a municipal bus in operation all day," said Daga. "Fast automatic charging will enable the EV market to grow faster. It is completely autonomous, carefree and safe."
Momentum is based Malvern PA in the States and has a rather content free website. – I guess watch this space.