£124.95
Type 1 to Type 2 Electric Car Charging cable
The one essential cable that every Nissan Leaf, Mitsubishi Outlander Phev, Nissan NV200 SE Van,Toyota Prius or Vauxhall Ampera needs to enable safe and secure charging from public charge points.
The Leaf, Outlander and most other Electric Cars use a standard Type 1 in car connector. The vast majority of public charge points offer a Type 2 connection. These include the charge points used at Waitrose, Sainsbury, ChargePoint.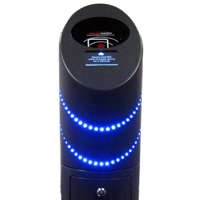 This Type 1 – Type 2 Cable permits 16Amps of charge to flow into the vehicle.
The coiled, spring like cable is 5m long and available in Black.
Type 1 to Type 2 – More details:
Or as some EV people call these – SAE J1772 (Type 1) to Mennekes / IEC 62196 (Type 2) Cable.
Type 2 is the form factor used on most public change points through the UK and Europe.
Type 1 is the cable connecting fitted to most European, Japanese and American Electric Cars including the best selling Nissan Leaf and Van, Mitsubishi Outlander PHEV, Renault, Zoe, Fluence and Kangoo, Toyota Prius Plug-in, Vauxhall Ampera.
Tesla and the German manufactures including BMW i3, i8, VW e-Golf, Audi A3 e-Tron, Porsche Panamera PHEV use a different system and need a Type 2 Female to Type 2 male cable.
Our cables are 5 M in length and available in Black. They are rated for 16 Amps of current. This is the standard 16Amp charge facility on most electric cars including the Nissan Leaf.
See our EV Charging locations page to find your nearest charge point.
Save
Out of stock
Description
Type 1 to Type 2 16A EV Coiled Charging Cable
Model: EV-CHC007-CB
Rated current: 16A
Working voltage: 240V AC
Insulation resistance: > 1000M Ω
Terminal temperature rise: <50K
Withstand voltage: 2000V
Contact impedance: 0.5m Ω Max
Vibration resistance: Meet JDQ 53.3 requirements
Working temperature: -30°C ~+ 50°C
CE, TUV approved
Charging Cable Spec
TUV or UL 3*2.5mm2+2*0.5mm2
Cord length: 5m
Coiled Spring
Weight: 2KG
Black
Materials
Shell Material: Thermo Plastic ( Insulator inflammability UL94 VO)
Contact Pin: Copper alloy, silver or nickel plating
Sealing gasket: rubber or silicon rubber.
Stock Status
In stock
Returns and Exchanges
There are a few important things to keep in mind when returning a product you purchased. You can return items for exchange within 7 working days of receipt of your goods.
You have 7 calendar days to return an item from the date you received it. 
Please ensure that the item you are returning is repackaged with all elements.
Ship your item back to Us
Firstly Print and return this Returns Form to:
Taybridge Towers, 3 Weston Yard, Albury, Surrey GU5 9AF UK
Please remember to ensure that the item you are returning is repackaged with all elements.
For more information, view our full Returns and Exchanges information.
Email to a friend